2021 Undergraduate Research Symposium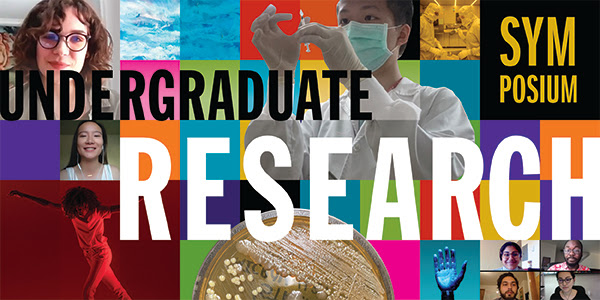 We are pleased to invite you to the University of Washington's 24th Annual Undergraduate Research Symposium.
This year, students will present their work online and participate in a Q&A following their presentation.
Undergraduates — 750 of them! — from all three UW campuses will present their research in a wide-range of disciplines, from astronomy to visual arts, international studies to psychology, anthropology to bioengineering and just about everything in between.
May 21, 2021 | Welcome and presentations begin at 9:00 a.m. (PDT)
Online, registration required | Free
"The application of classroom concepts in problem solving and experimentation have made me a better student, a better learner, a better teacher, a better thinker and a better person. I believe every student, no matter the field, should conduct a mentored internship/research project in their area of study."
– 2020 Symposium Presenter –
Lightning Talk Presentation Sessions
Each session will consist of several groups of 5-8 students in each group.
Session 1: 9:00–9:55 a.m.
UW President Ana Mari Cauce and Vice Provost and Dean Ed Taylor congratulate presenters and announce the recipients of the annual Undergraduate Research Mentor Awards in a kickoff welcome video.
Session 2: 10:05–10:55 a.m.
Session 3: 11:00–11:50 a.m.
Session 4: 11:55 a.m.–12:45 p.m.
Session 5: 1:20–2:10 p.m.*
Session 6: 2:15–3:05 p.m.
Session 7: 3:10–4:00 p.m.
Session 8: 4:05–4:55 p.m.
10-Minute Oral Presentation Sessions
Each session will consist of several groups of 5-8 students in each group.
Session 1: 9:00–10:30 a.m.
Session 2: 11:00 a.m.–12:30 p.m.
Session 3: 1:00–2:30 p.m.*
Session 4: 2:45-4:15 p.m.
Visual Arts & Design Session
11:00 a.m.–12:30 p.m.
Performing Arts Presentations
12:30–2:00 p.m.*
*Provost Mark Richards afternoon video address will be shared, congratulating students who are presenting and highlighting the critical role undergraduate research plays in sustaining and promoting the UW's culture of research excellence.
PROGRAM NOTES
All presentations take place on Friday, May 21, and will happen in real time, Pacific Daylight Time. Sessions will not be available for viewing later.
To view the sessions, register for the Symposium and make sure to set up your Zoom account if you do not already have one. Information about how to access the sessions and a detailed Symposium conference schedule will be emailed to registered attendees the week of Symposium.
You will be able to watch presentations by students you specifically want to see, and you will be able to explore and attend multiple sessions.
HOW YOU CAN SUPPORT UNDERGRAD RESEARCHERS
Attend the Symposium and ask questions. Register here and tell your friends.
Show your support on social. Invite your friends and family ahead of time, and then post and tweet about your experiences using #HuskyResearch.
Make a gift. Because of the generosity of donors, undergraduate researchers are beginning to overcome some of the new challenges they face in 2021. Please consider making a gift to further research as a core part of a student's Husky Experience.
"Participating in undergraduate research has taught me a lot about how to put myself at the edge of our collective knowledge, ask probing questions, work on an exploratory project and, ultimately, do something important that nobody has ever done before."
– 2020 Symposium Presenter –
---
ARCHCEPCMEventsLARCHOpportunitiesPh.D.REResearchStudentsUDPUndergraduateShareTweet