2022 Summer Internship Program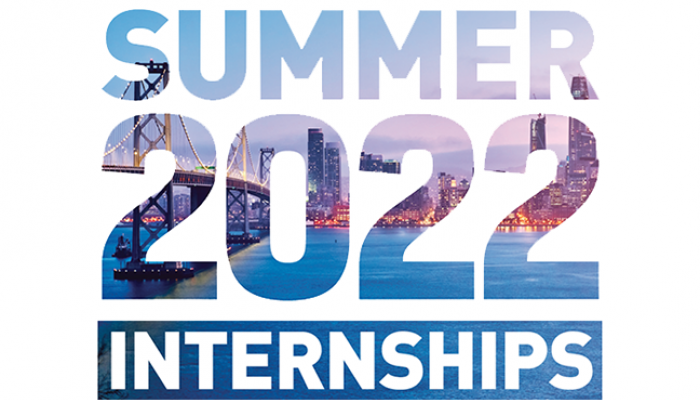 We are excited to share with you the announcement of our 2022 Summer Internship Program at the City and County of San Francisco Planning Department.
https://sfplanning.org/internships2022
This coming summer, we will have 17 paid ($30.10 per hour) intern positions.  The 40 hours per week, 12-week program starts on Monday, June 6 and ends on Friday, August 26.
If selected, the intern will be paired up with a Senior Planner / Supervisor to work on one of the below projects:
Four-Plex Prototypes Intern
Public Art & Statues Historic Context Statement Intern Objective Design Standards Research
SFCCRS – Jewish Historic Context Statement Intern
SF Cultural Association & Historic Resource Finding Audit Intern
Landmark Recognition & Interpretation Intern
ADU Program Communication and Outreach Intern
Public Resources for Commercial Signage and Residential Building standards Intern
Equity Map of Resources Intern
Community Engagement Public Information and Process Improvement Intern
Housing Element 2022 Update Intern
Climate Change and Greenhouse Gas Emissions Intern
Environmental Planning Racial and Social Equity Intern
Environmental Monitoring Team Intern
Railyards Redevelopment and General Plan Transportation Element Intern
Streetscape Design Advisory Team Intern
Small Multifamily Strategies Research Intern
SF Young Planners Program Intern
Here is the link to apply:  https://jobs.smartrecruiters.com/CityAndCountyOfSanFrancisco1/743999796556548-2022-summer-planning-intern-9910-
The deadline to apply is Friday, January 28,  at 11:59 pm (PST).
If you have any questions, please email them to:  CPC.InternshipProgram@sfgov.org.
---
ARCHCEPCMInternshipLARCHOpportunitiesREStudentsUDPShareTweet