A-Z of Landing a Job Series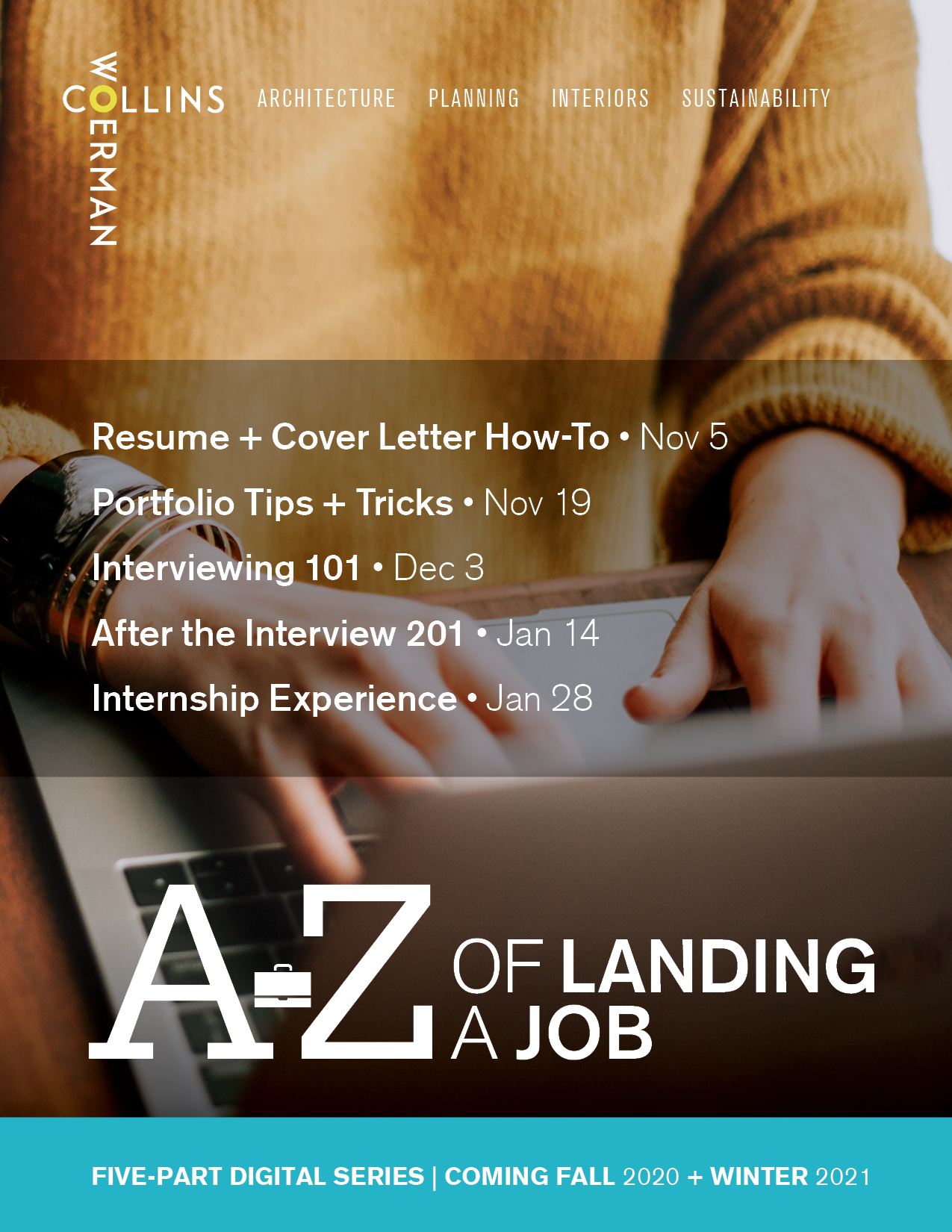 CollinsWoerman will be hosting a five-part digital series meant to help students and recent graduates navigate the job-hunting process within the architecture, planning, and interiors professions. We would appreciate you sharing the event information with your students and welcome anyone to join our A-Z of Landing a Job series. Attached is an event poster as well as details, dates, and registration information for you to send out to interested students and recent graduates.
We will provide a new registration link to you for each up coming event. If there is someone else who would be best to speak with about distributing this information, please direct us to the best contact.
Information for Students
CollinsWoerman is excited to present a five-part digital series on the A-Z's of Landing a Job within architecture, planning, and interiors! Over the course of 3 months, industry leaders will be hosting digital classes discussing everything from how to write an eye-catching cover letter to how to negotiate your contract before signing with a new firm! Get insight from our recruitment team and ask questions you can't easily find online! We will kick off our five-part series on Thursday, Nov. 5 with Resume + Cover Letter How-To. Take a peek at the calendar below and be sure to save the date – you won't want to miss these! Visit https://rb.gy/18hewj to sign up today!
Questions? Please reach out to the CollinsWoerman Recruitment Team at recruitment@collinswoerman.com
Resume + Cover Letter How-To • Nov 5
Portfolio Tips + Tricks • Nov 19
Interviewing 101 • Dec 3
After the Interview 201 • Jan 14
Internship Experience • Jan 28
---
ARCHEventsInfo SessionsJobsOpportunitiesStudentsUDPShareTweet