Academic Support Programs Sp 21 Updates: CLUE, Coaching, Workshops, Hiring!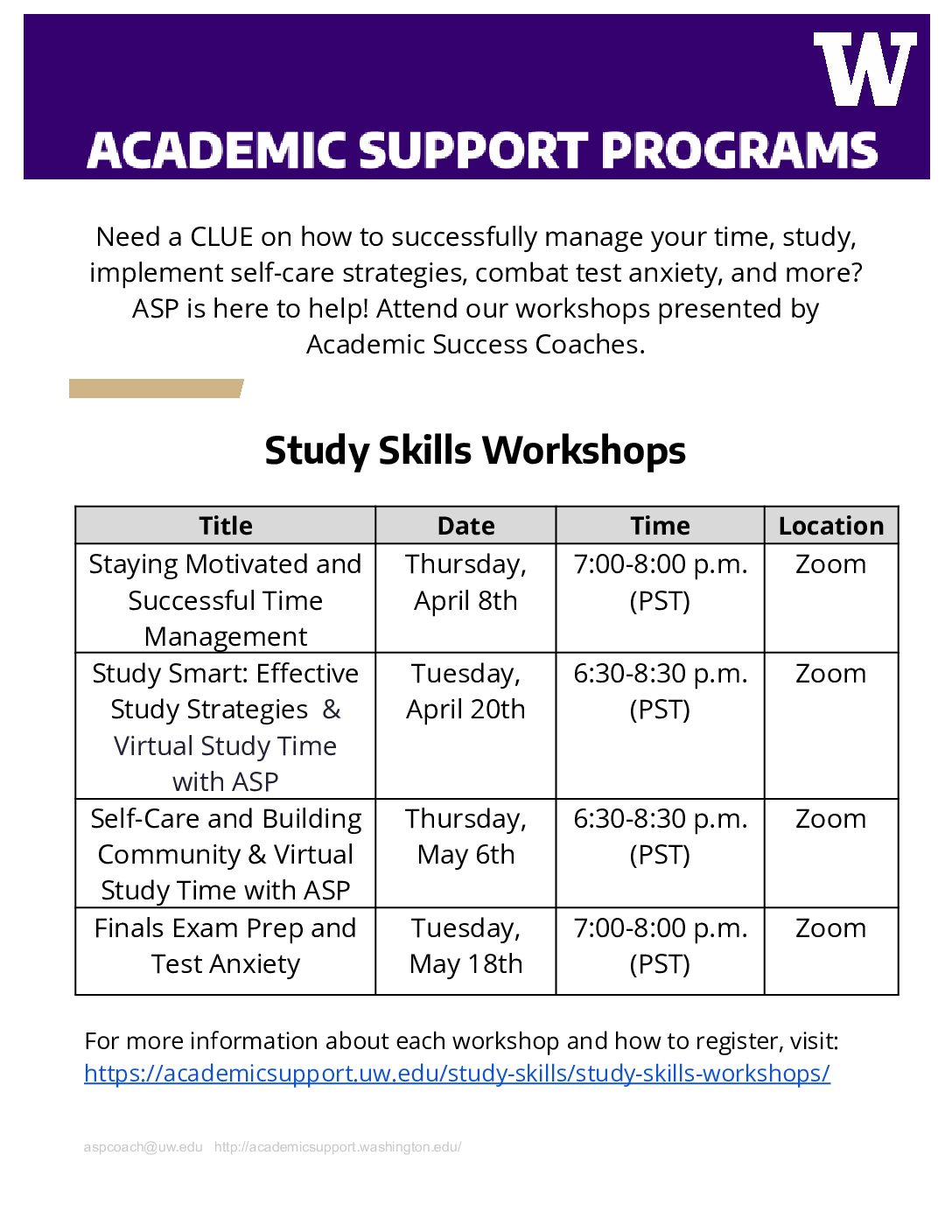 Happy spring quarter! We, at
Academic Support Programs
, wanted to let you know that we are here for you and send an update about our spring quarter programs.
CLUE: Drop-in tutoring, scheduled appointments, exam reviews, discussion sessions
CLUE tutoring is open for drop-in tutoring from 7 pm- 11 pm (PST) on Sundays through Thursdays. Our tutors are ready and eager to support you virtually! You can bring any question you might have no matter where you are in the process. We also offer daytime scheduled appointments for Math, Chemistry, Physics, and Writing support. Exam reviews and discussion sessions are also available, and more information can be found on the CLUE website.
Questions? Email clue@uw.edu.
Academic Success Coaching: Skill building and study skills workshops
Our Academic Success Coaches are available and excited to meet with you virtually! Academic Success Coaches are peers who are available to meet with students one on one to discuss strategies including but not limited to time management, goal setting, motivation, studying, connecting to campus resources, or any topic area that a student is experiencing within their educational journey. Visit our Academic Success Coaching website and schedule an appointment with our coaches. Questions? Email aspcoach@uw.edu.
Here are the upcoming Study Skills Workshops that our Academic Success Coaches are hosting this quarter. All workshops are open to all students and available through Zoom this quarter. Our Study Skills website includes more specifics about each workshop including dates, descriptions, and how to register! These quarterly workshops provide strategies, resources, and tips focusing on these topics:
Staying Motivated and Successful Time Management
Study Smart: Effective Study Strategies & Virtual Study Time With ASP
Self-Care Workshop & Virtual Study Time With ASP
Finals Exam Prep and Test Anxiety
ASP Graduate School Panel
Interested in Working with us?
Do you have a passion for teaching, supporting other students, and are interested in enhancing your own skills? If so, check out CLUE's applications for either Front Desk Manager or Drop-In Tutors (Math, Chemistry, Physics, Writing)! The priority deadline to apply for all positions is Friday, April 23rd. To find more information about how and where to apply, please visit our Work with Us website.
More information about Academic Success Coaching applications will be updated on our website in the weeks to come this quarter!
---
GraduateOpportunitiesResourcesStudentsUndergraduateShareTweet