AIA Seattle: Culture Change in Practice – A Leadership Cohort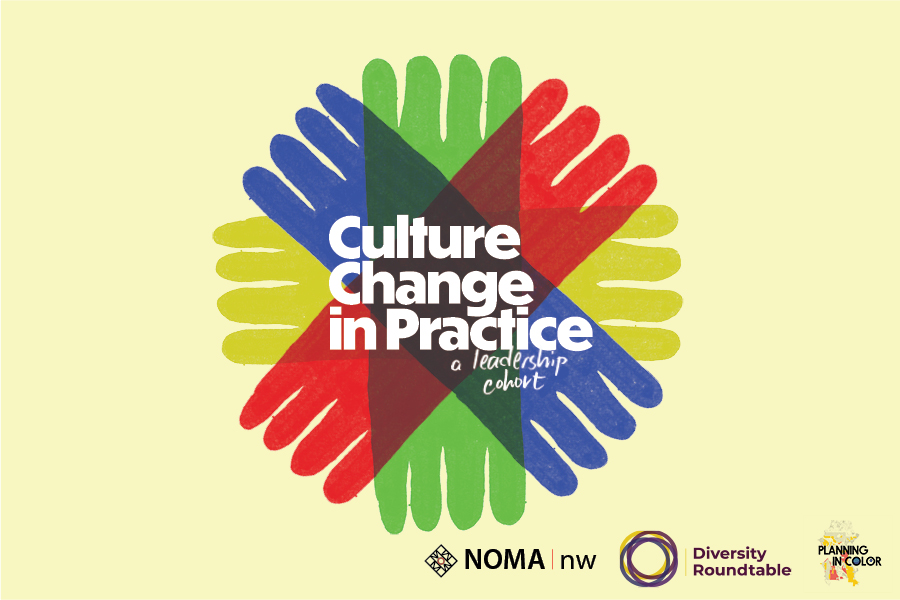 AIA Seattle, in close collaboration with NOMA Northwest and Planning in Color, is proud to announce its first culture change leadership cohort. This four-part, peer-based learning program was designed by a team of architects and allied professionals over the past nine months to specifically provide architecture and allied firms the tools and community to meet the explicit goals and metrics laid out in NOMA NW's Call-to-Action Pledge.
This program builds off AIA Seattle's Intercultural Leadership Program and Conversations Toward A More Equitable Practice series in 2019, and is part of our Racial Justice Commitments, enumerated following the murders of George Floyd, Breonna Taylor, Manuel Ellis, Ahmaud Arbery, and numerous others in 2020 and our local Racial Justice Town Hall in June. In the wake of a spring of anti-AAPI violence and a deeply embedded set of built environment-centric challenges, AIA Seattle is using this program as another opportunity to equip ourselves and our members to learn how to be antiracist, and build more equitable relationships in our firms, and in the projects and communities we serve.
We invite a dedicated cohort of 40 firm leaders who have committed to, or are considering, the NOMA NW Call-to-Action Pledge. This peer-to-peer learning cohort, facilitated by Dr. Anu Taranath of Dr. Anu Consulting: Dialogues for Justice, will support firms' ability to live up to the goals of the pledge and equip leaders to catalyze change outward in their own firms.
Culture Change in Practice – A Leadership Cohort
May 24 | June 21 | October 4 | December 6
All sessions are held on a Monday from 9am -12pm PT. Series registrants commit to participate in all four courses, understanding that the content has been designed sequentially for cohort-based learning.
---
AlumniEDIEquity Diversity and InclusionEventsOpportunitiesPACResourcesShareTweet