Apply for the UW Dream Project!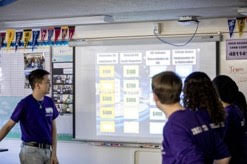 Hello!
Are you a UW student that is passionate about college access and educational equity? Are you interested in supporting high school students from South King County?
Then you might be a good fit for the UW Dream Project!
The Dream Project is a UW program in the Community Engagement and Leadership Education (CELE) Center, where UW students (YOU) support and create resources for young people to assist with planning for life after high school. Some of our partner schools include:
Foster High School

Chief Sealth High School

Renton High School

Federal Way High School

Summit Atlas High School 

Summit Sierra High School

Rainier Beach High School
Courses and UW students' support for young people will occur virtually for the 2020-2021 academic year. 
UW students enroll in EDUC 260.
This is an 80 minute lecture worth 1 I&S credit. All courses are graded as credit/no-credit. There are multiple sections of this course to accommodate for varying schedules, which take place Mondays 11:30am-12:50pm or 3:00pm-4:20pm. This year, EDUC 260 focuses on virtual support strategies and discusses different educational issues and policies with a social justice lens. Students are trained on how to work with young people to explore and plan for post-secondary life including college applications, applying for financial aid, applying for jobs, writing personal statements, finding scholarships, and building a resume. Past lecture topics include:
| | |
| --- | --- |
| Holistic Mentorship and Socialization | Racism and How it Impacts our Partner Schools |
| Adultism | Financial Aid |
| Service and Savior Mentality | Building Interpersonal Skills for Mentorship |
UW students participate in weekly virtual support through EDUC 369
The times available for each high school are listed in the time schedule under EDUC 369. The course is an additional 1 credit (can count towards general electives/ Education minor/ Diversity minor). Due to the COVID-19 pandemic, mentorship will consist of students creating virtual resources for our middle and high school students and their families, such as creating informational videos for the UW Dream Project Vimeo channel.
Register for the Dream Project on MyPlan!
Questions?
Contact us: dreamproject@uw.edu | (206) 616-5791
Center for Experiential Learning and Diversity (Mary Gates Hall 171)
www.washington.edu/dreamproject/
---
ARCHCEPCMDiversity & InclusionEquityEquity Diversity and InclusionInternshipLARCHOpportunitiesREStudentsUDPShareTweet