ASUW Leaders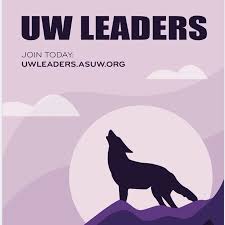 UW Leaders is gathering students interested in building upon their innate leadership potential in a new program it is offering this year, the UW Leaders Student Leader Forum! The forum is an incredible opportunity for students looking to develop their leadership abilities, make connections, and get more involved with ASUW. The UW Leaders Student Leader Forum is open to all UW undergraduate students, and will be a space that prioritizes collaboration and building bridges across the diverse set of experiences, backgrounds, and identities held by those who join.
We at UW Leaders believe that "Leaders are made, not born," so every student has the potential to be a change-maker! Some topics this forum will touch on during winter quarter include: intentionality, student activism, mindfulness, building a network, and inclusive leadership! The attached pdf has more information about this exciting opportunity!
WHEN: Every Monday, from 2:30 PM – 4:00 PM PST
LINK TO THE ROLLING APPLICATION (fill out to receive weekly Zoom link): https://tinyurl.com/uwl2021lf
For more information, please email asuwola@uw.edu or look at the UW Leaders Student Leader Forum Instagram: @UWL.LF
We wish you the best with your time at UW and hope to see you at the forum.!
With care,
Brenton Riddle, Kayla Kenyon, Luisa Drummond, Jocie Thomson
UW Leaders Team | "Leaders are made, not born."
E-Mail | Office Hours | Facebook
HUB131C | 360-798-7872
---