AUT 2022: Intro LARCH Courses for NonMajors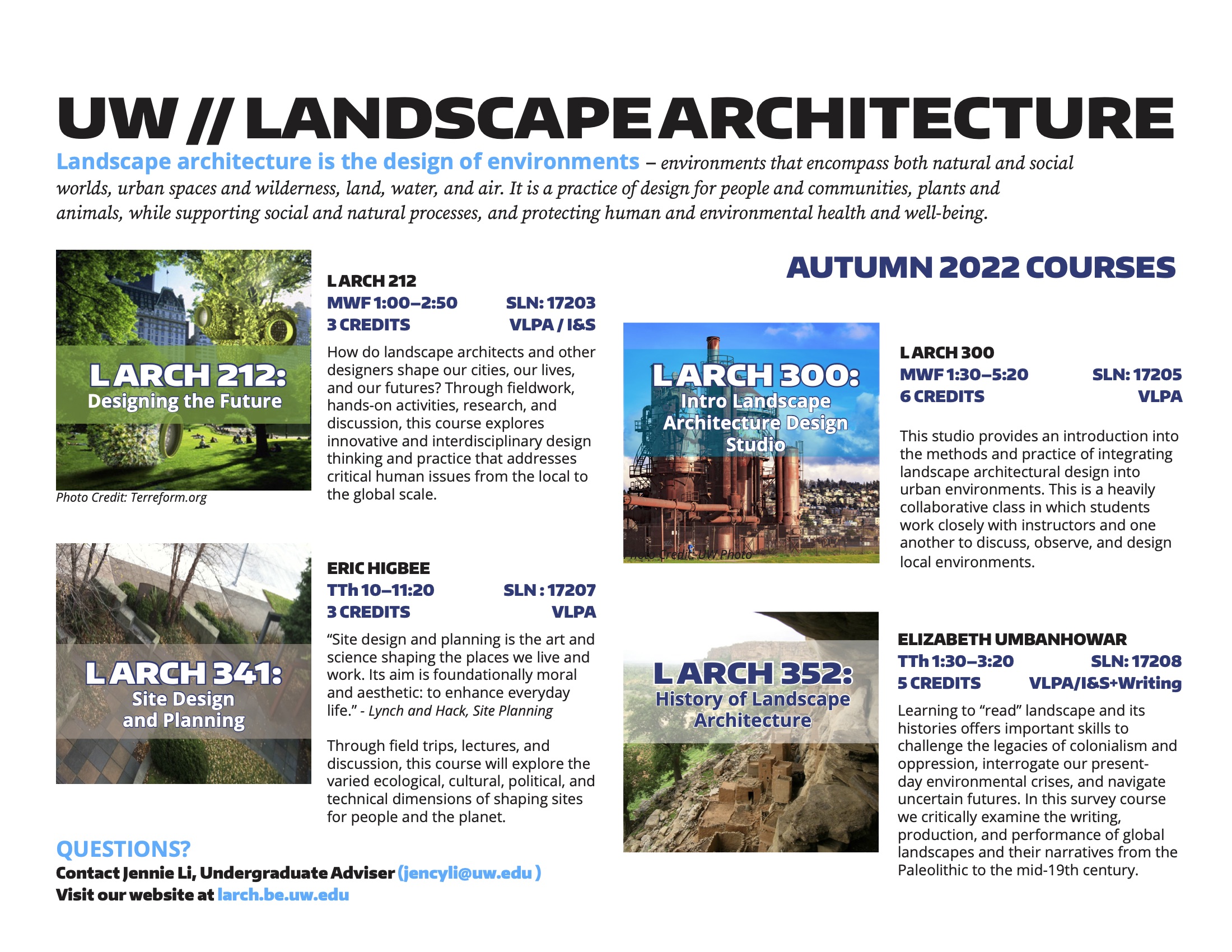 L ARCH 212 | Designing the Future
Instructor TBD
3 credits, VLPA/I&S
MWF 1:00 – 2:50 PM
SLN: 17203
Questions? contact Jennie Li, jencyli@uw.edu
How do landscape architects and other designers shape our ciis, out lives, and our futures? Through fieldwork, hand-on activities, research, and discussion, this course explores innovative and interdisciplinary design thinking and practice that addresses critical human issues from the local to the global scale.
L ARCH 300 | Intro to Landscape Architecture Design Studio
Instructor TBD
3 credits, VLPA
MWF 1:30-5:30 PM
SLN:17205
Questions? contact Jennie Li, jencyli@uw.edu
This studio provides an introduction into the methods and practice of integrating landscape architectural design into urban environments. This is a heavily collaborative class in which students work closely with instructors and one another to discuss, observe, and design local environments.
L ARCH 341 | Site Design and Planning
Eric Higbee
3 credits, VLPA
TTh 10-11:20 AM
SLN:17207
Questions? contact Jennie Li, jencyli@uw.edu
"Site design and planning is the art and science shaping the places we live and work. Its aim is foundationally moral and aesthetic: to enhance everyday life." – Lynch and Hack, Site Planning
Through field trips, lectures, and discussion, this course will explore the varied ecological, cultural, political, and technical dimensions of shaping sites for people and the planet.
L ARCH 352 | Histories of Landscape Architecture
Landscape History Lab: Experiments in (re)reading and (re)righting stories of landscape
Elizabeth Umbanhowar
5 credits, VLPA/I&S, Writing Credit
TTh 1:30-3:20 PM
SLN:17208
BLA/MLA History requirement
Questions? contact Jennie Li, jencyli@uw.edu
Learning to "read" landscape and its histories offers important skills to challenge the legacies of colonialism and oppression, interrogate our present-day environmental crises, and navigate uncertain futures. In this survey course we critically examine the writing, production, and performance of global landscapes and their narratives from the Paleolithic to the mid-19th century.
---
ARCHCEPCMCoursesGraduateLARCHREStudentsUndergraduateUndergraduatesShareTweet