On The Ground: Indigenous Voices on Constructed Place – Lecture Series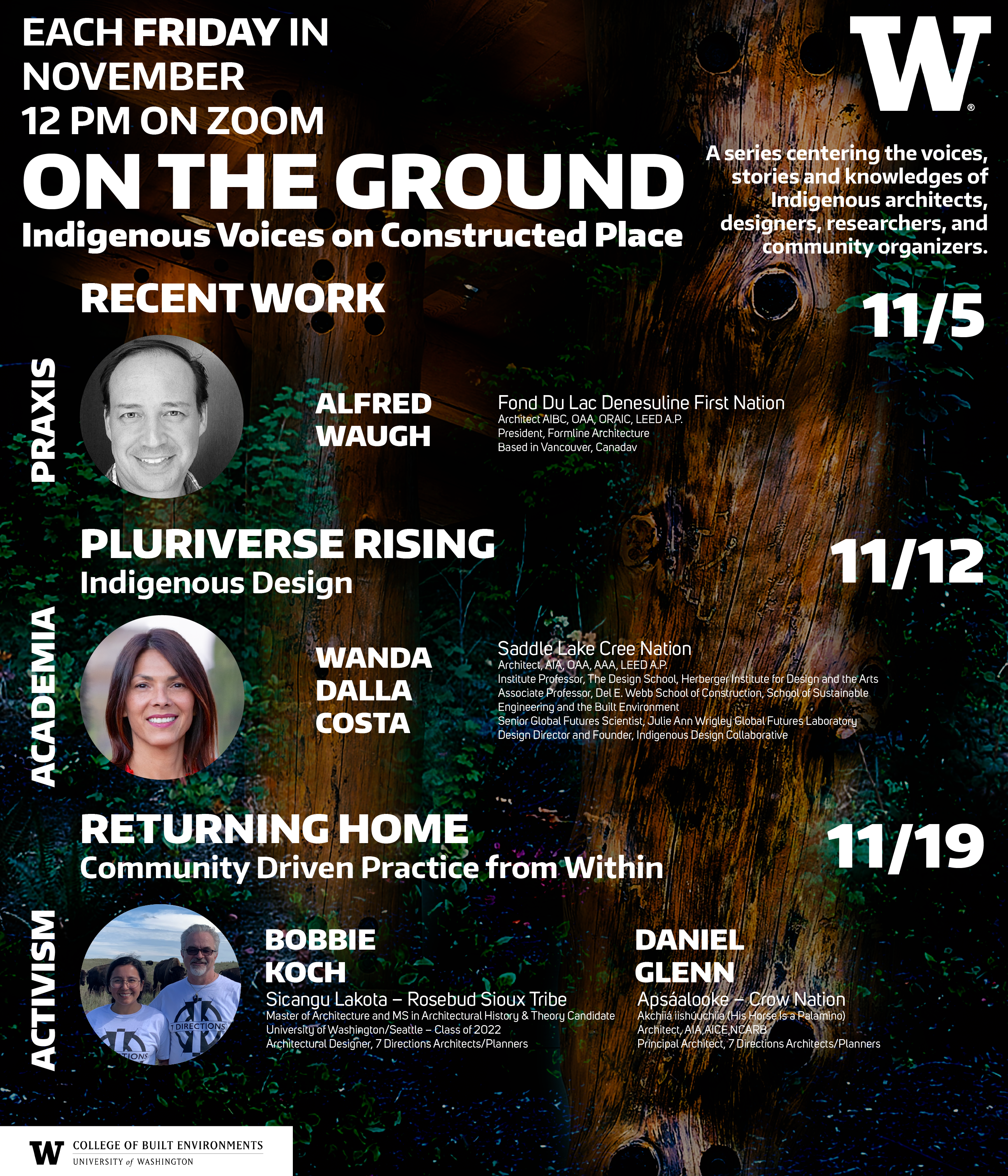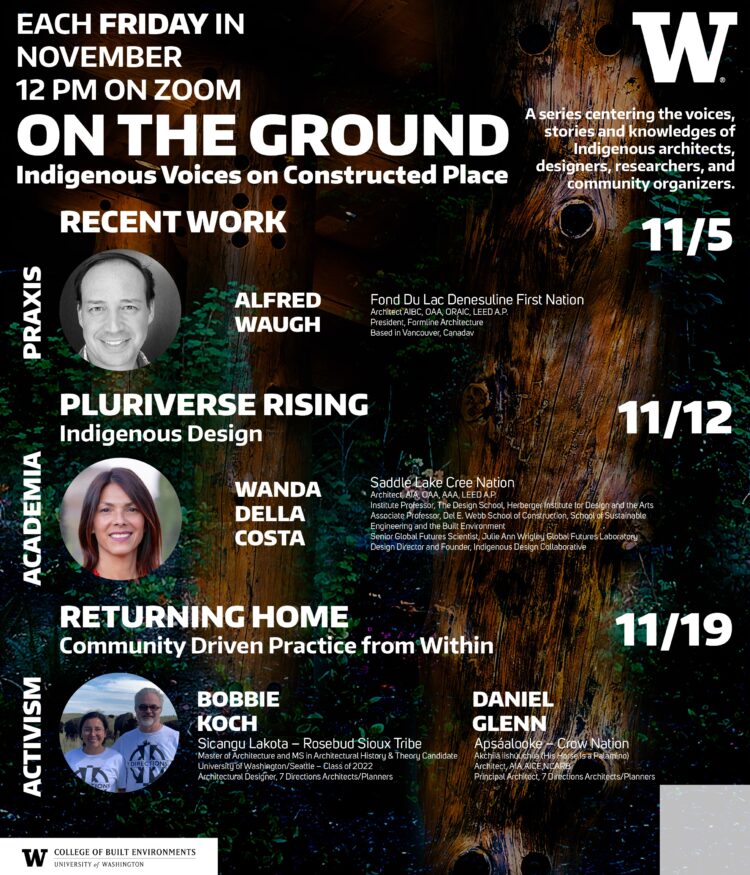 On the Ground: Indigenous Voices on Constructed Place is a lecture series centering the voices, stories and knowledges of Indigenous architects, researchers and community organizers. It is both a celebration of November 2021 as National Native American Heritage Month, as well as a call to action.
Please join hosts Bobbie Koch and Jim Nicholls at noon, on the first three Fridays in November, for one-hour Zoom presentations and discussions.
Each Friday will be a short presentation of Indigenous Architects research and work followed by questions and comments. A set of perspectives will be offered – Praxis, Academia, and Activism.
Friday, November 5, 12P — Praxis – 'Recent Work'  
Speaker – Alfred Waugh, Architect AIBC, NWTAA, OAA, MRAIC, LEED AP
Owner l Principal Formline Architecture, Canada
Cultural Affiliation: Status First Nations registered with the Fond Du Lac (Denesuline) Nation of northern Saskatchewan Canada, part of Treaty 8.
Alfred is also part English and Swedish.
Click here to join the Zoom meeting – https://washington.zoom.us/j/2898515591
Friday, November 12, 12P — Academia – 'Pluriverse Rising: Indigenous Design' 
Speaker – Wanda Dalla Costa, Architect, AIA, OAA, AAA, LEED A.P.
Saddle Lake Cree Nation
Institute Professor, The Design School, Herberger Institute for Design and the Arts
Associate Professor, Del E. Webb School of Construction, School of Sustainable Engineering and the Built Environment
Senior Global Futures Scientist, Julie Ann Wrigley Global Futures Laboratory
Design Director and Founder, Indigenous Design Collaborative
Click here to join the Zoom meeting – https://washington.zoom.us/j/2898515591
Friday, November 19, 12P — Community Activism – 'Returning Home: Community Driven: Practice from Within'
Speakers – Bobbie Koch + Daniel Glenn
Bobbie Koch 
Sicangu Lakota – Rosebud Sioux Tribe
Master of Architecture + MS in Architectural History & Theory
University of Washington/Seattle – Class of 2022  
Architectural Designer, 7 Directions Architects/Planners
Daniel Glenn, Architect, AIA,AICE,NCARB
Akchiiá iishúuchiia (His Horse Is a Palamino)
Apsáalooke – Crow Nation
Principal Architect, 7 Directions Architects/Planners
Click here to join the Zoom meeting – https://washington.zoom.us/j/2898515591
---
AlumniARCHCEPCMCollegeEDIEquity Diversity and InclusionEventsFacultyGraduateLARCHLecturePACPh.D.REStaffStudentsUDPShareTweet