Black Neighborhoods Matter with Donald King and Sharon Sutton: May 4, 4:30pm PST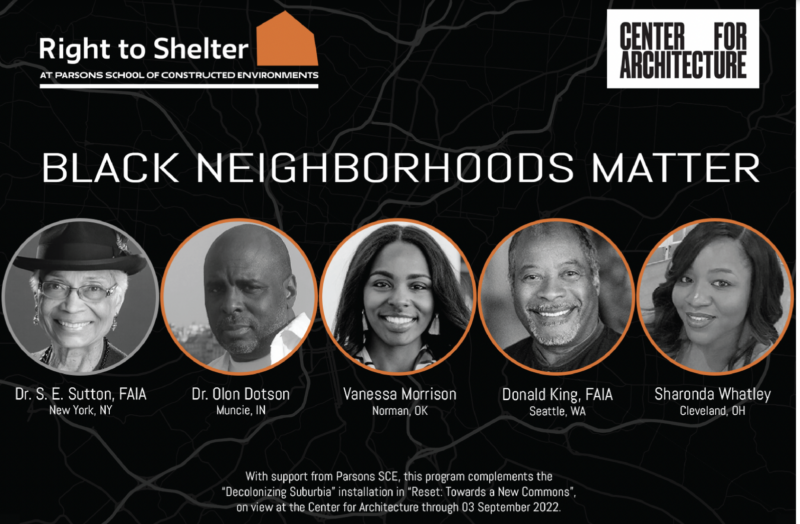 The "Decolonizing Suburbia" installation, now on view at the Center for Architecture, explores the architectural typologies that can result in a new, more accessible commons in a historically African American neighborhood in Cincinnati, Ohio. In a companion investigation, "Black Neighborhoods Matter" zeroes in upon preventing the current displacement of long-time residents from these types of neighborhoods nationwide. It identifies community-responsive architectural, social, and policy mechanisms for honoring the historical marginalization and resistance that shaped the distinctive culture of these communities.
"Black Neighborhoods Matter" is a collaboration between graduate design and policy students in the "Right to Shelter" housing seminar at Parsons and four national experts in grassroots community renewal. The experts, who work in four regions of the country, span four generations and thus have differing lived experiences of race-based housing discrimination and inequality. They will draw from their portfolios of housing activism to propose approaches to claiming space in historically African American neighborhoods that simultaneously reckon with the past and move toward a viable future.
In an interactive dialogue with the students, panelists will elaborate the themes of "history and memory," "design justice," "cultural wealth," and "regenerative economies" that they interrogated during the seminar. The audience will acquire tools for stemming the erasure of African American enclaves, for repairing their infrastructure without displacing existing residents, and for positioning the next generation of designers to become the guardians of their cultural wealth.
CONVENER:
Dr. Sharon E Sutton, FAIA
PANELISTS:
Dr. Olon Dotson
Vanessa Morrison
Donald King, FAIA
Sharonda Whatley
---