Building A Movement Labor Internship and Scholarships/Fellowships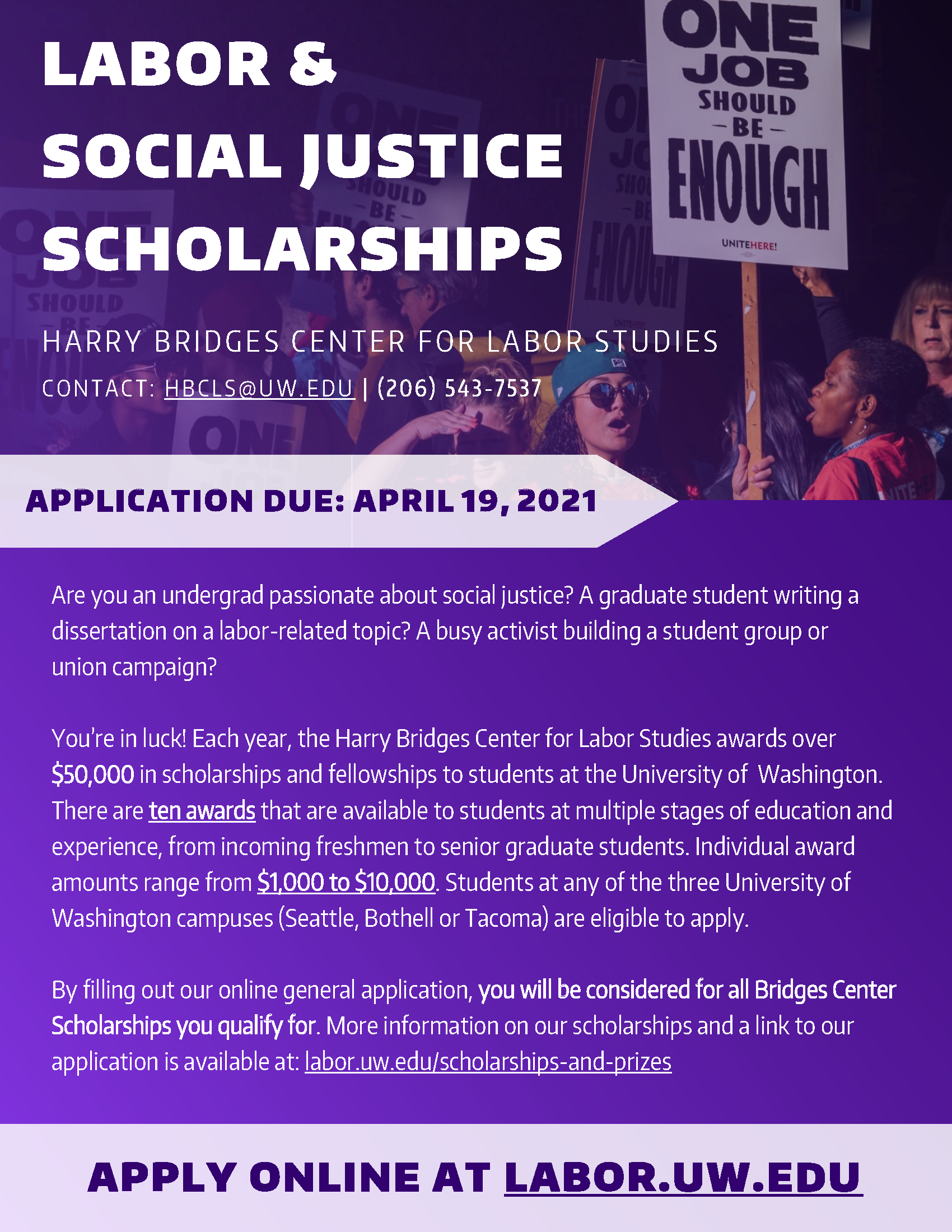 I am reaching out on behalf of the Harry Bridges Center for Labor Studies to let students know about 2 opportunities that are currently open for students to apply.
The Building A Movement (BAM) Labor Internship is a paid internship program that connects undergraduate students at the University of Washington with the local labor movement, through partnerships with community organizations engaged with this work on a variety of levels. Students who are invested in labor and social justice advocacy are given the opportunity to explore how organizations work to make systemic and community-level changes for the benefit of working people, and make meaningful contributions to that process. Organizations that will be hosting and mentoring students during Spring 2021 include UW United Students Against Sweatshops, API Chaya and the Massage Parlor Outreach Program, Unite Here Local 8, and the Seattle COVID-19 Oral History Project.
Students will be compensated at a rate of $17/hr, which includes their hours spent working with their host organization (varies per organization) and a weekly meeting with other BAM Labor Interns, and Yasmin Ahmed, HBCLS Assistant Director of Student and Community Engagement.
In addition to the BAM Labor Internship, HBCLS is pleased to announce that our 
scholarship applications for 2021-2022 are also open now! 
We have seven scholarships and fellowships that are open to undergraduate and graduate students, with 
funding that ranges from $5,000 to $10,000 depending on the award
. On top of that, 
students only need to fill out ONE online application to apply for all of our awards!
 We will do the work on our end to determine which awards you qualify for. Please visit 
https://labor.washington.edu/scholarships-and-prizes
 for more information on each of our scholarships and to access the online application.
If you are curious about the scholarship & fellowship selection process, how to strengthen your application, or work on your application collectively with Bridges Center staff and other students, please register for our virtual Scholarship Information Session on April 1st (3:30 to 5pm). The link to register can be found here: 
https://washington.zoom.us/meeting/register/tJArf-yhrzgjHtYsJDBPQjZEQjXwp4ym9OKM
For any questions, please reach out to me (Yasmin Ahmed) at 
ypahmed@uw.edu
!
---
CEPFellowshipsFundingLARCHScholarshipsStudentsUDPUndergraduateShareTweet