Call for Nominations! Distinguished Faculty Award for Lifetime Achievement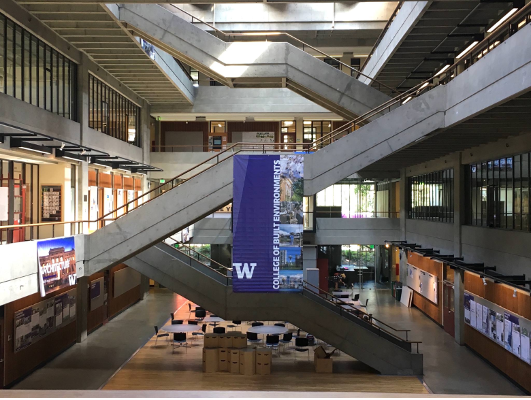 The College of Built Environments (CBE) invites nominations of individuals to be considered for receipt of the Distinguished Faculty Award for Lifetime Achievement. This award recognizes faculty members who have made important contributions to their field and who also have had significant impact on the CBE community of faculty, staff, and students. This award recognizes that the distinction of CBE rests in large part on the work of individual faculty members and the recognition that they achieve, as well as the achievements of the students that they teach and mentor. It acknowledges a sustained commitment to their own research or practice and teaching, and a passion for excellence in their engagement in advancing their department and the college.
The intent of this award is to recognize distinction achieved across a full career and is therefore only given after retirement. All CBE faculty members who have served the college for at least 12 years and have retired are eligible for consideration. Eligible faculty members must have served at 50% or more FTE during their tenure with the college. Past colleagues who have retired from positions taken after leaving UW are also eligible if their appointment in the college was a minimum of 12 years. Posthumous recognition is also possible. Distinction in their field may come from a combination of indicators: national and international awards, fellowship or its equivalent in professional associations, holding a prominent public office, significant impacts of scholarly works, significant impacts on the college or department, significant impacts on the community or region, and/or significant impacts on students.
Nominations must articulate the reasons that the faculty member is considered to have made outstanding contributions to the profession, the college, and/or the department.  Clear evidence of the significance and impact of the nominee's achievements must be provided.  The nomination letter should not exceed five pages.
Up to five letters of support of up to two pages each may be submitted with the nomination materials or sent separately.
Nomination packages must include a C.V. of no more than 15 pages (or, if a C.V. is not available, equivalent evidence of lifetime achievement).
Supplemental evidence in the form of documents, reports, articles, portfolios, and the like will also be considered.
Nominations received will be evaluated by a committee in confidence. The names of the individuals nominated will be kept confidential.  Only emeritus faculty members selected for the award will be announced. Please note that the committee that will evaluate nominations will not have the time or capability to carry out detailed research on the individuals nominated; therefore, as much detail as possible should be provided when the nominations are submitted.
Recipients of this award will be announced by the college in June 2023, and the names of recipients will be added to a permanent display mounted in Gould Hall.
Nominations should be sent to: CBE Distinguished Faculty Committee, c/o Office of the Dean, College of Built Environments, University of Washington, Box 355726, Seattle, WA 98195-5726. The deadline for receipt of nominations is February 26, 2023. Digital dossiers are preferred and can be emailed to Gerri Williams. 
List of previous winners:
Carl F Gould
Lionel H. Pries
Victor Steinbrueck
Myer Wolfe
Richard (Rich) Haag
Keith Kolb
Grant Hildebrand
Andris (Andy) Vanags
David Streatfield
Dr. Sharon Egretta Sutton
---