Carve for a Cause – register & submit by Oct. 24!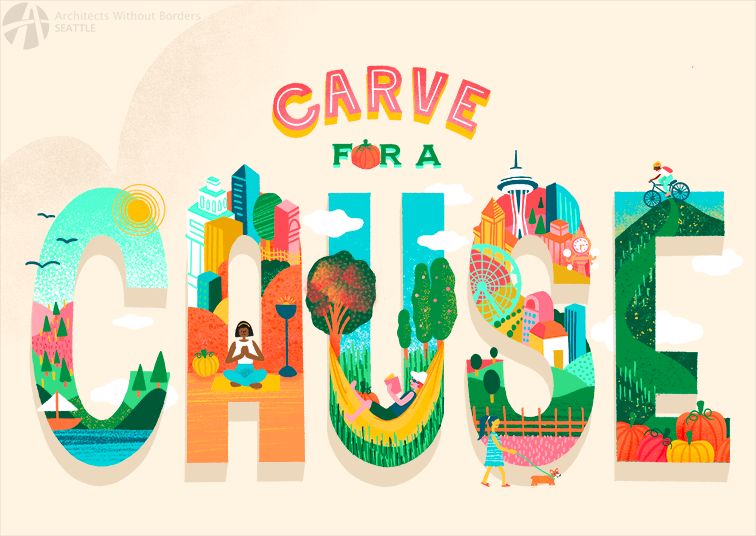 Architects Without Borders Seattle invites the architecture students in your department to participate in a special invitational division of Carve for a Cause 2021! As our annual pumpkin carving contest is online this year, we decided it was time to add into the mix a little friendly competition between architecture students around the world, and particularly, between the architecture students at the University of Washington and Washington State University. An East-West contest is always exciting… why should athletes have all the fun?!
UW Architecture students ONLY may register (for free!) at this link.
The judging panel of the competition will consist of Gundula Proksch and Jennifer Dee from UW Architecture, Omar Al-Hassawi from WSU Architecture,  as well as Crystal Day, last year's Carve for a Cause winner.   Prizes include dinner at Canlis, a wine tasting party for 4, and much more!
The Highlights:
Invitational Division: Architecture Student Registration
Registration for all other people, architecture firms and organizations
Sunday, 10/24, Midnight – Upload all pumpkin carving images by this time
Tuesday, 10/26 – VOTING Begins
Wednesday, 10/27, 7:30pm PT – Online Party and Awards Ceremony
All proceeds benefit AWBS's mission to bring life-changing design to underserved communities.
In addition to other prizes, our distinguished panel of judges will award Best Design by an Architecture Student and everyone else will be able to vote to decide on Most Popular Design by an Architecture Student.
Register now and join the fun & festivities!
—
Ramlah
Ramlah Ringold Olt
Architects Without Borders Seattle
Join us Wed 10/27 for Carve for a Cause
The AWBS Annual Pumpkin Carving Contest
https://www.awb-seattle.org/carve
---