#CBEchronicles, Oct. 22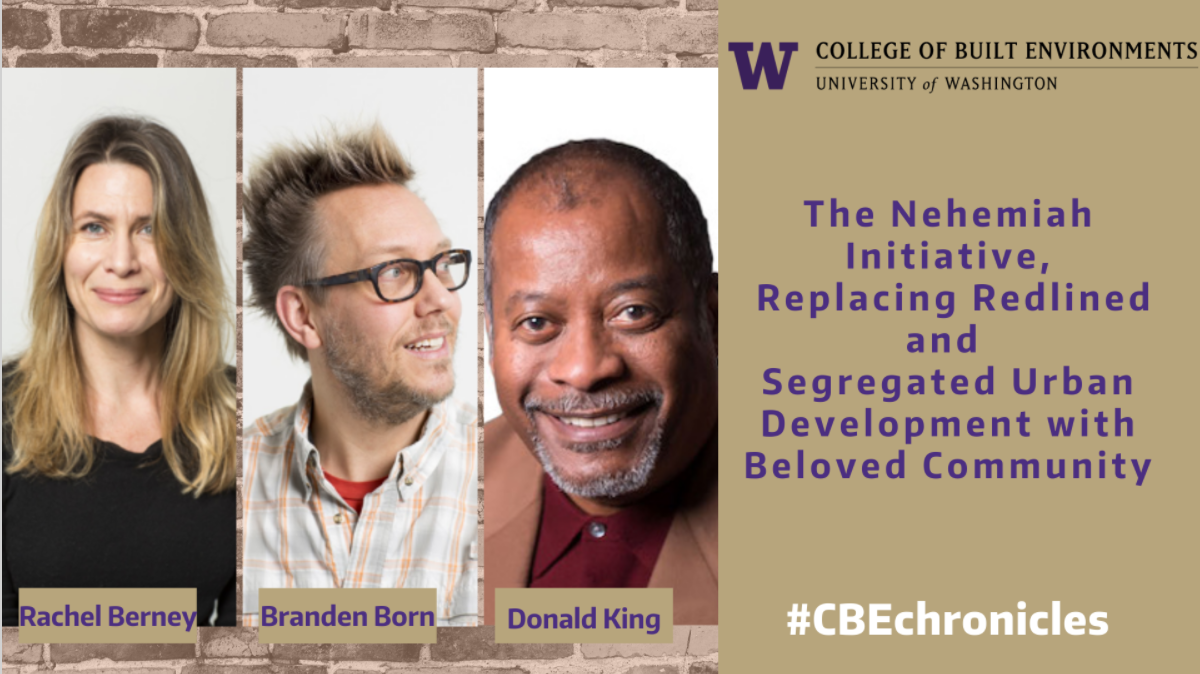 The Nehemiah Initiative, Replacing Redlined and Segregated Urban Development with Beloved Community
Rachel Berney, Associate Professor in the Dept of Urban Design and Planning
Branden Born, Associate Professor in the Dept of Urban Design and Planning, Director of the Center for Livable Communities
Donald King, Affiliate Professor in the Dept of Architecture, Principal Architect at Mimar Studio in Seattle
Ken Oshima, Dept of Architecture 
Vikram Prakash, Dept of Architecture and Associate Dean for Academic Affairs Thursday, October 22 | 5:00 – 6:00 PDT PM | Zoom
These conversations are part of our #CBEchronicles project; learn more and engage with us!
Join Urban Design & Planning Associate Professors Rachel Berney and Branden Born in conversation with Donald King, Principal Architect at Mimar Studio in Seattle and Affiliate Professor of Architecture as they discuss The Nehemiah Initiative– a faith-based community development initiative with the mission of empowering the African American community in central Seattle in support of the retention of historically Black institutions and advocate for the development of property owned by historically Black churches.  In partnership with the Nehemiah Initiative, CBE has mounted several studios focused on planning, design, real estate development, and community engagement.
Rachel Berney is an Associate Professor in the Department of Urban Design and Planning, Director of the Master of Urban Planning Program, Adjunct Associate Professor in Landscape Architecture, an Urban@UW Fellow, and author of Learning from Bogotá: Pedagogical Urbanism and the Reshaping of Public Space. She writes about conflict, belonging, and public space; a justice-based agenda for urban design; and the right to mobility. Her teaching centers on community-focused equitable design and development with a focus on public space and mobility.
Branden Born is an Associate Professor in the Department of Urban Design and Planning, Director of the Center for Livable Communities, Co-Director of the University of Washington's Livable City Year program, and served on the Puget Sound Regional Food Policy Council and the Washington State Food System Roundtable.  He is passionate about planning processes, food systems, and sustainability with a focus on opportunities to develop or participate in creative governance.
Donald King is an Affiliate Professor in the Department of Architecture and Principal Architect at Mimar Studio in Seattle.  He has been a resident of Seattle's Central District for over 35 years and as former President and CEO of DKA Architecture has over 40 years of experience in the planning and design of human service facilities, schools, and affordable housing.  His work is supportive of responsive design and how it empowers clients and the community
You must register to attend this webinar. A confirmation with Zoom information will be sent to you after you register.
Use our hashtag to stay connected with what our community is doing.- #CBEchronicles.  We will be bringing you more events like this soon! 
---
AlumniARCHCEPCMCollegeEquity Diversity and InclusionFacultyGraduateLARCHLectureNewsPACPh.D.REStaffStudentsUDPShareTweet