Competition: Lyceum Architecture Travel Fellowship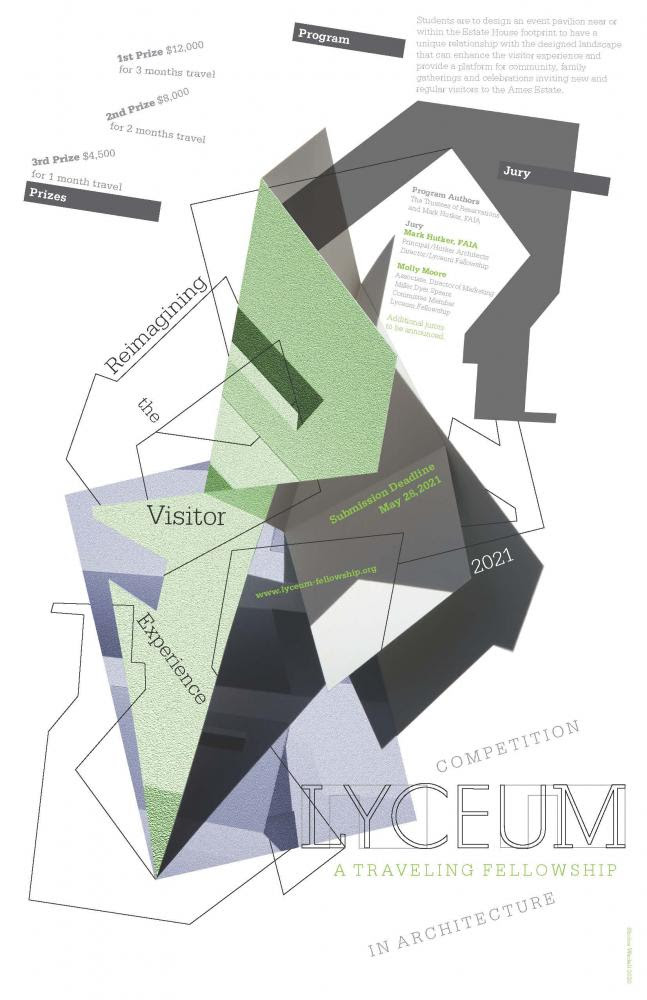 SUBMISSION DEADLINE EXTENDED – entries now due by Friday, May 28, 2021 11:59pm EST
You have more time to prepare your solution to the 2021 Lyceum Fellowship Competition. Go to
www.lyceum-fellowship.org
for complete competition information.
Digital Submission Requirements:
1. Complete the information requested:
– Contact information
– Travel information
– Shipment Notification
2. Upload to website:
– Format: PDF
– Size: maximum 20MB
3. The overall submission shall not exceed eight single-sided (11×17) pages plus cover.
4. A written project statement shall be integrated into the entry content; not a separate or additional page. The statement shall not exceed 250 words.
5. The entry should NOT contain any identifying information (name, school, etc.)
6. The student's submission will be assigned a submission ID i.e. LF-XXXX. Include the submission ID on the front of the digital entry.
7. Entry fee: $15
8. Faculty certification — You must include your Faculty Advisor's contact information. They will be notified when you complete the submission requirements
Submission Deadline: May 28, 2021
Prizes:
1st Prize $12,000 for 3 months travel
2nd Prize $8,000 for 2 months travel
3rd Prize $4,500 for 1 month travel
Citation In the event a travel prize winner cannot travel, the Citation moves in the the third prize placement
Merit Certificate of Recognition
The Fellowship will collaborate with winning students to determine the best way to recognize their awards during this time of global pandemic and travel limitations.
All eligible students are encouraged to participate.
Visit the Lyceum Fellowship website for complete competition eligibility and information.
---
ARCHCompetitionsFellowshipsLARCHOpportunitiesStudentsStudy AbroadShareTweet