EARTHLAB SALON – How We Present Native Knowledge is Environmental Justice: A case for Indigenous storytelling in museums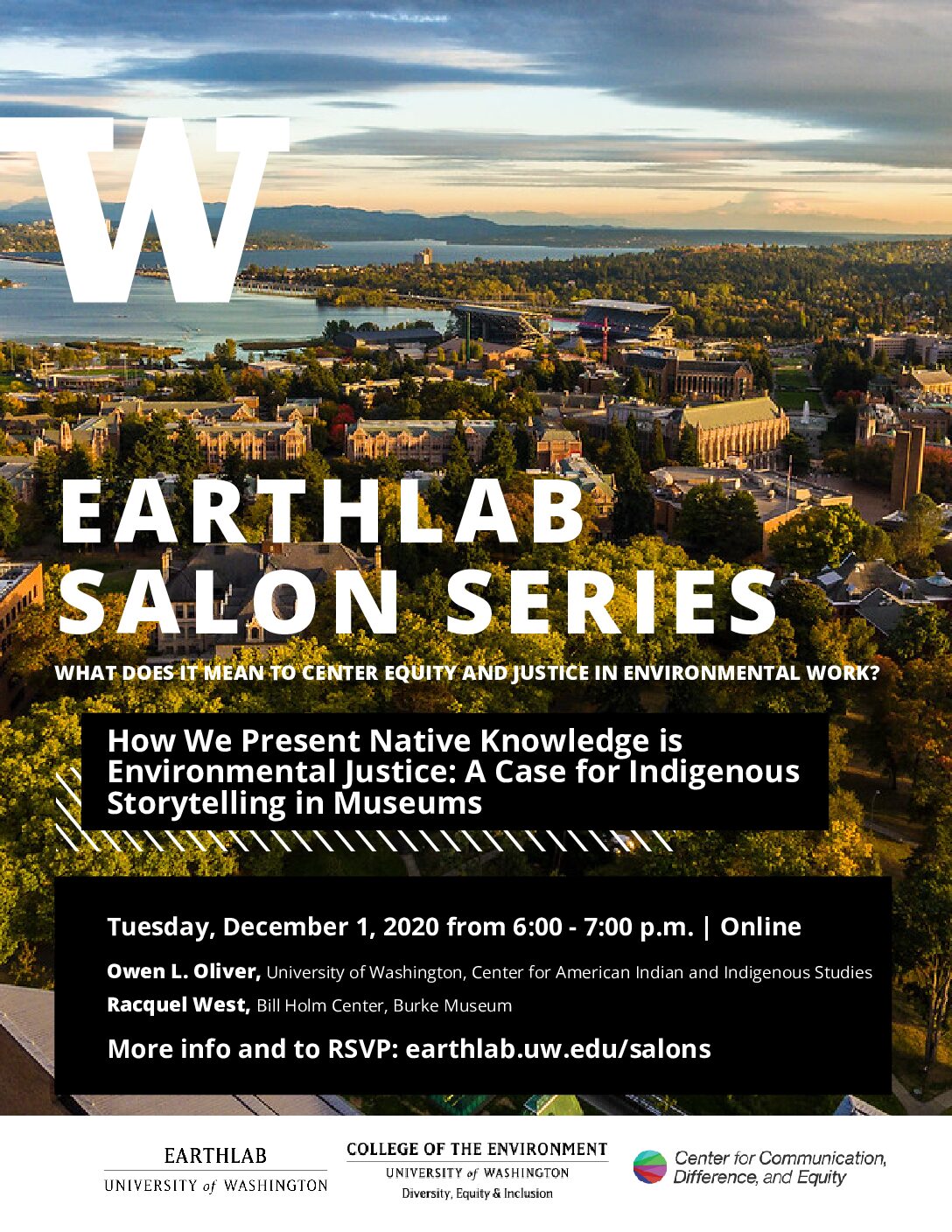 TUESDAY, DECEMBER 1 | 6:00-7:00 p.m. | Online
Please join us on Tuesday, December 1 for our next installment in the EarthLab Environmental Justice Salon series. A flyer is attached and all event and speaker information, including a link to RSVP, is included below.
RSVP: https://bit.ly/35gHWJF
Part of centering equity and justice in environmental work includes honoring the knowledge and work of communities that disproportionately face environmental harms. This idea comes to bear when we consider the social and ecological harm Indigenous communities are experiencing due to large environmental events such as climate change, yet much of the academic and institutional community dismiss Native knowledge as non-scientific and non-relevant.
As public institutions, museums are often the primary, self-proclaimed expert of knowledge. They present Indigenous cultures and discuss their relationship to lands while suppressing the voices of the disenfranchised. The presentation will be focused on presenting some of the treasures of the Burke Museum along with commentary by Indigenous activists and poets, who will reclaim their history and stories creating a larger shift in how we present Indigenous Knowledges in Western institutions.
About the speakers: 
Racquel West (She/Her) is a recent graduate of the University of Washington, with a double major in Geography and History with a minor in American Indian Studies. She studies representation, the spatiality of those representations, and museums' dissemination of knowledge. She conducted her honors history thesis at the Suquamish Museum, specifically looking at how the museum's platform influences their reservation. She continues to volunteer there and is also working at the Bill Holm Center within the Burke Museum. In addition to being awarded as a Dean's Medalist and Husky 100 for 2020, Racquel was the editor in chief of Plenum: The Undergraduate Geography Journal and a two-time recipient of the Chester William Fritz Scholarship for the 2018-2019 and 2019-2020 academic years.
Owen L. Oliver (He/Him) is a member of the Quinault Indian Nation and has heritage to the Pueblo of Isleta. Owen is a senior at the University of Washington focusing on Indigenous Education through cultural revitalization within the Pacific Northwest Indigenous communities. Owen was formerly a student in the School of Aquatic and Fishery Sciences however now he's taking that work into the American Indian Studies and Political Science departments. As a 2020 Champion for Change for the Center for Native American Youth and UNITY 25under25 Owen stresses the importance of educating youth in and outside the classroom with the notion of 'living in place'. Currently Owen is creating the first Indigenous Walking Tour at UW, a project funded by the Husky Seed Initiative and the Center for American Indian and Indigenous Studies. You can find more information on his website at owenloliver.com
Thank you to our co-sponsors, the Center of Communication, Difference, and Equity and the College of the Environment Diversity, Equity & Inclusion.
Learn more about the EarthLab Environmental Justice Salon Series.
Environmental Justice Salons | EarthLab
earthlab.uw.edu
---
ARCHCEPCollegeEquity Diversity and InclusionEventsFacultyGraduateLARCHPh.D.StaffStudentsUDPShareTweet