Epidemic Urbanism Initiative Design Competition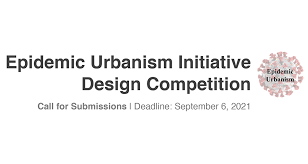 Designing for Health and Equity: Supporting Vulnerable Communities in the Post-Pandemic Age
The goal of this design competition is to provide a setting for collaboration between students, teachers, designers, thinkers, architects, artists, and practitioners from a range of disciplines and fields in order to create and discuss conceptual design ideas that explicitly promote healthy places for vulnerable communities.
Description:
The novel coronavirus disease (COVID-19) pandemic, like other epidemic illnesses and natural disasters that preceded it, has disproportionately affected vulnerable communities across the world including older adults, racial and ethnic minorities, and low-income communities. The incidence of COVID-19, death rates due to the disease, and access to medical care were and are patterned along pre-existing social inequities and often aided by inequities in the built environments in which people live and work. Recognizing the role that everyday built environments play as both primary places of vulnerability and exposure as well as resources for health promotion and intervention, there is an urgent need to rethink architecture, urban design, and the built environment toward more critical, just, and equitable solutions in the post-pandemic age.
Undoubtedly, the cities, schools, homes, and spaces of recreation we inhabit will undergo large and small changes in the wake of the COVID-19 pandemic, and as we anticipate the inevitable next epidemic or pandemic. What might these changes look like? Or, more to the point, what should they look like? In other words, how might we use this time of rebuilding and rethinking to envision, design, and inhabit built settings that are more just and equitable? How might we re-center health in all design practices and processes?
This design competition seeks to address these questions by creating a venue to promote collaboration across global and disciplinary networks and by bringing together students, academics, and practitioners from across the world to imagine design solutions that:
Deliberately center health, equity, and social justice in a range of different typologies and Foster resilience in anticipation of future outbreaks of epidemic illnesses and other natural disasters.
This design competition will seek submissions in four categories: senior housing, community clinics, neighborhood schools, and public parks. Each design category will be reviewed by three jurors consisting of faculty and professionals from various countries and disciplines. Shortlisted projects will be announced on October 1, 2021 and will be discussed by the jury and guest commentators in final review meetings for each topic on:
Friday, October 8, 12-1pm US Eastern Time: Senior Housing
Saturday, October 9, 12-1pm US Eastern Time: Community Clinics
Friday, October 15, 12-1pm US Eastern Time: Neighborhood Schools
Saturday, October 16, 12-1pm US Eastern Time: Public Parks
Deadline:
September 6: Submissions due to epidemicurbanism@gmail.com.
---
ARCHCEPCMCollegeCompetitionsFacultyFundingGraduateLARCHOpportunitiesPh.D.REResearchStudentsUDPShareTweet