FIUTS Discussion Series on Race & Racism in the U.S.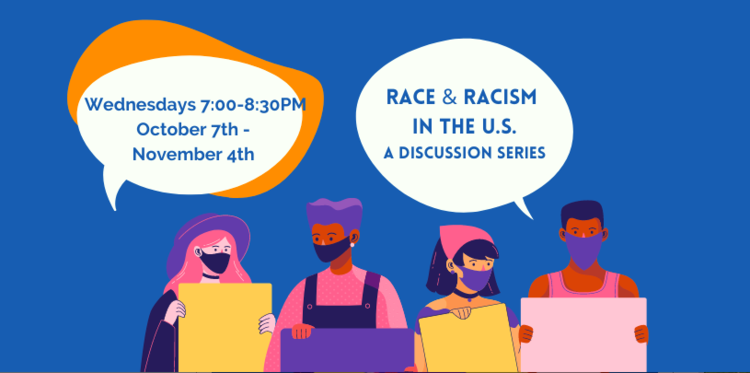 Join us for a weekly virtual discussion series focused on race and racism in the United States. These discussions will provide a safe space for international and U.S. students and others to learn with and from each other.
The autumn quarter series will run on Wednesdays from 7:00-8:30pm Seattle time October 7th through November 4th. To register, please read the information below, then click on "Sign Up Here!" Questions? Contact FIUTS Education Programs Coordinator, Kailyn Swarthout, at kailyn@fiuts.org
Who can participate?
While the primary audience for this series is UW students, other members of the UW and FIUTS community, such as alumni, past exchange program participants, or hosts, are invited to join as well. The series is aimed at two main groups:
International students or others who did not grow up in the United States and are interested in deepening their knowledge about race and racism in the U.S. context.
U.S. students or others who did grow up in the United States and are interested in learning about race through international lenses and in deepening their skills related to engaging diverse people in conversations about race.
How will the sessions be structured?
Each session will begin with a community building activity to give participants a chance to get to know one another further. Then, we'll have a combination of large and small group discussions, providing opportunities to connect with others from many backgrounds. We'll also use multimedia resources as a basis for some of our conversations. Discussions will be facilitated by FIUTS staff and student leaders.
What will we discuss?
The discussions will delve into themes related to race in the context of current protests across the U.S. and around the world against systemic racism and police brutality against Black people. They will support students who did not grow up in the U.S. in better understanding current race relations here, and offer students who did grow up in the U.S. a chance to better understand race relations in other parts of the world and how people in other countries perceive race relations in the U.S. – allowing both groups to engage in meaningful, mutually beneficial conversations about these difficult topics.
Each session will focus on a specific topic and how that issue intersects with race and racism, in the U.S. and worldwide. Past topics include: immigration, assimilation, class, protest, and solidarity.
How much time do I need to commit to the discussion series?
The series will be made up of five weekly virtual Zoom meetings between October 7th and November 4th. All meetings will take place on Wednesday evenings from 7:00-8:30pm Seattle time. While we understand that last minute things can come up, please ensure when you register that – to the best of your knowledge – you are able to attend all five sessions. Having a cohort of participants who attend all sessions together will help us to build a sense of trust and community within our group.
Are there other expectations for participation?
We will ask that all participants agree to listen actively to others, speak from their own experience, and be open to engaging in dialogue on potentially challenging topics with a spirit of curiosity, inclusion, and empathy. The discussions will center the voices and experiences of BIPOC (Black, Indigenous and People of Color). All participants will be asked to agree to the FIUTS Code of Ethics.
Questions? Please reach out to FIUTS Education Programs Coordinator, Kailyn Swarthout, at kailyn@fiuts.org
If you are interested in other opportunities this summer for cross-cultural connection and discussion, please check out our weekly Virtual Conversation Groups (Tuesdays, 5:00-6:00pm) and other programs on our calendar.
---
ARCHCEPCMCollegeEventsGraduateInternational StudentsLARCHPh.D.REResourcesStudentsUDPShareTweet