FIUTS Discussion Series on the 2020 U.S. Election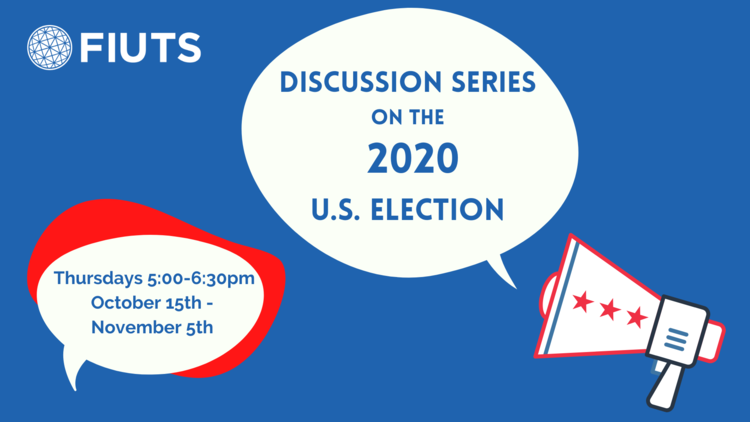 Join FIUTS for a weekly virtual discussion series focused on the 2020 U.S. election. These discussions will provide a space for international students to learn about and discuss what's happening in U.S. politics right now, how our government and elections work, and the challenges our society is currently facing around making sense of our history, our values, and where we go from here.
Who can participate?
While the primary audience for this series is UW international students, other members of the UW and FIUTS community (such as U.S. students, alumni, past exchange/visiting program participants, or hosts) are invited to join as well.
How will the sessions be structured?
Each session will begin with an "icebreaker" or community building activity to give participants a chance to get to know one another further. Depending on the overall size of the group, we may split up into a variety of smaller breakout groups in addition to spending time together as a large group, potentially with guest speakers who will shed additional light on some of the issues we will discuss. We'll also use multimedia resources as a basis for some of our conversations. Discussions will be facilitated by FIUTS staff and student leaders.
What will we discuss?
The discussions will support international students in better understanding the current context of the U.S. election by discussing themes related to current events and issues at stake in this election, as well as our political systems and government structures (such as the electoral college, voting rights, redistricting, checks and balances, the two-party system, and other topics depending on participants' interests).
Each session will start with a focus on a specific topic, followed by opportunities to discuss your own perspectives, ask and answer questions, and talk about the news of the week. Confirmed topics are:
October 22: How does media coverage of the election shape people's perception of the candidates and the issues? How can international students make sense of the news coverage they're seeing, understand bias in different U.S. media outlets, and find reliable sources of information?
Further session topics are to be determined, and will be announced here once confirmed.
How much time do I need to commit to the discussion series?
The series will be made up of four weekly virtual Zoom meetings between October 15 and November 5. All meetings will take place on Thursday afternoons from 5:00-6:30pm Seattle time. We strongly recommend attending all four sessions so that we can build a community within our group that will allow us to have more meaningful discussions; however, if you can only come to some sessions, that is alright too!
Are there other expectations for participation?
We will ask that all participants agree to listen actively to others, speak from their own experience, and be open to engaging in dialogue on potentially challenging topics with a spirit of curiosity, inclusion, and empathy. All participants will be asked to agree to the FIUTS Code of Ethics.
Questions? Please reach out to FIUTS Education Programs Manager, Ellen Frierson, at ellen@fiuts.org.
If you are interested in other opportunities for cross-cultural connection and discussion, please check out our weekly Virtual Conversation Groups and other programs on our calendar.
---
ARCHCEPCMEventsInternational StudentsLARCHPh.D.REResourcesStudentsUDPShareTweet