Gender-Inclusive Language Workshop – Monday 4/12, 6pm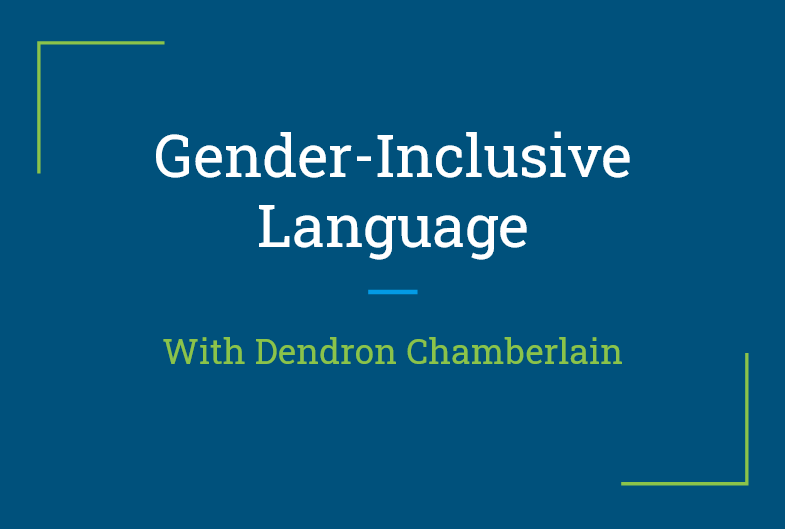 UDP Equity Diversity Inclusion Committee invites current UDP faculty, staff and students to participate in a Gender-Inclusive Language workshop via Zoom.
This 90-minute workshop focuses on reducing your use of gendered language in both oral and written contexts so that you can talk with, write about, and introduce people regardless of their genders.  The workshop briefly outlines reasons for and benefits of gender-free language, then introduces 4 methods for reducing use of pronouns and other gender-coded language, and offers opportunities to practice each method in small-group breakouts.
The instructor, Dendron Chamberlain, offers workshops including Trans 101 (intro to the spectrum of gender identities and trans issues),  Gender-Inclusive Language, and Transgender Patient-First Healthcare.
Date:  Monday April 12, 2021
Time:  6:00pm – 7:30 pm PDT
Register at this link: https://forms.gle/sSpDovVvpdwGjtvf8 
The workshop is capped at 25 participants.  The zoom session will have a waiting room, with priority given to registered participants followed by those on the waiting list. So that we can start promptly with full attendance, registered participants who aren't in the waiting room by 6:03 will forfeit their spot if others are waiting.
Zoom Link: will be emailed to those on registration and waiting lists prior to the event. 
Questions? Contact Cheryl.L.Klotz@gmail.com
---