GIX Innovation Challenge: Final Registration deadline + info session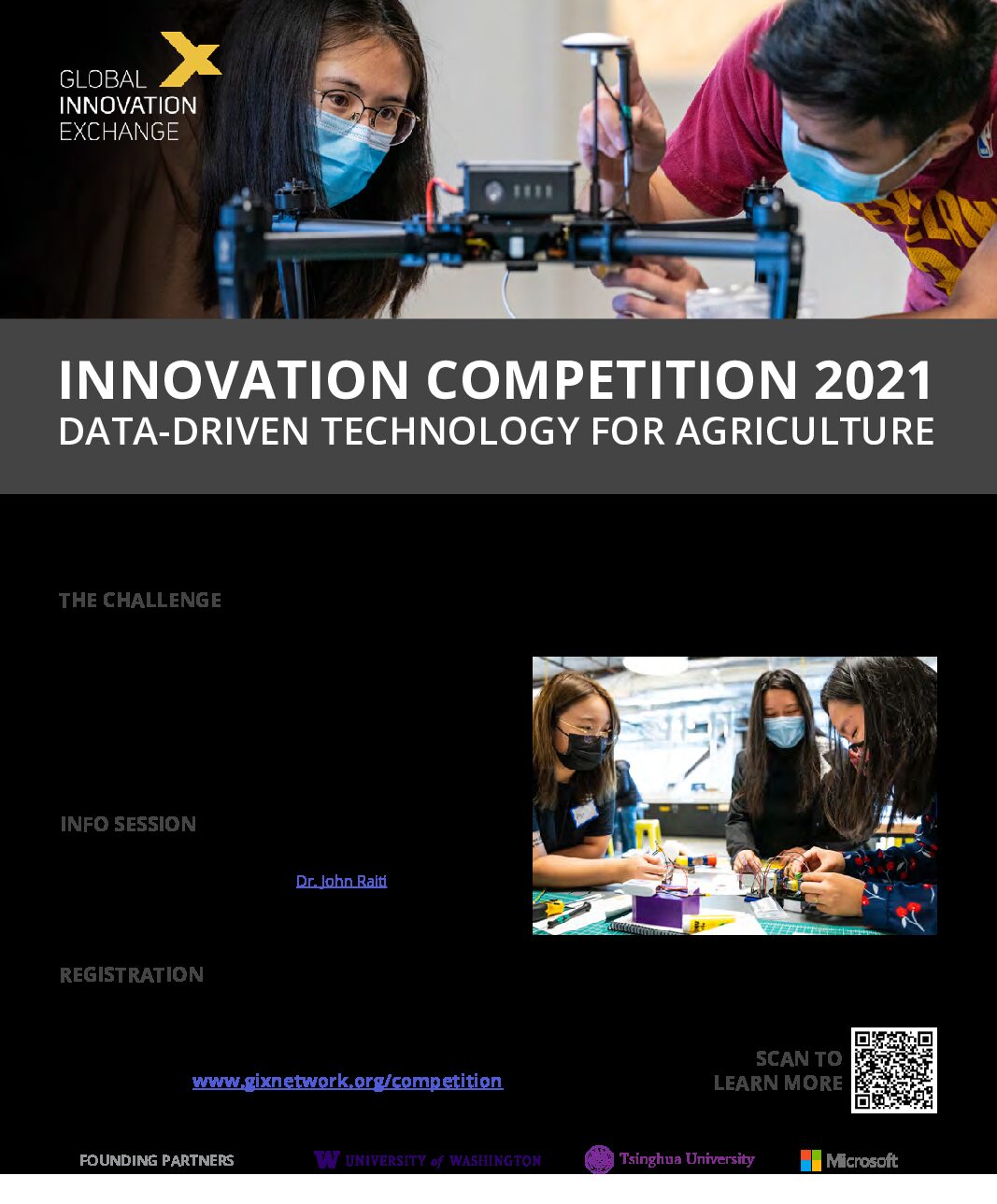 If you have any technology minded students interested in participating in Innovation competitions, please share with them this last call for participation in the GIX Innovation Competition. The deadline to register is February 15
th
 and
we'll be offering a virtual info session with more information tomorrow, Wednesday, February 3rd at 6:00pm
. The competition, sponsored by Microsoft FarmBeats, is a focused on advancing global agriculture through data-driven technology. The competition is open to juniors, seniors, or recent undergraduate graduates from the past year. More than $7,000 worth of prizes are available. Students can learn more about the competition and can sign up for the virtual information session by visiting 
www.gixnetwork.org/competition
Please find more comprehensive information below:
Global Innovation Exchange (GIX) Innovation Competition 2021: Advancing global agriculture through data-driven technology.
Sponsored by Microsoft FarmBeats, the GIX Innovation Competition 2021 invites submissions for teams to create an original, technologically inventive project in areas such as the internet of things, intelligent hardware, low-cost sensors, drones, robotics, computer vision and machine learning algorithms, and cloud computing to help address farming challenges.
Who can participate:  A team of 2-5 undergraduate students studying (but not limited to) design, technology, CS, or interdisciplinary studies and graduates from an undergraduate program within the last year located anywhere across the world.
Registration deadline: February 15
Final info session: February 3 at 6:00 p.m.
Visit the website to review the challenge, sign up for the info session, and register to compete:  https://gixnetwork.org/outreach-programs/innovation-competition/
---
ARCHCEPCMCollegeCompetitionsLARCHOpportunitiesStudentsUndergraduatesShareTweet