Graduate Funding: Fellowships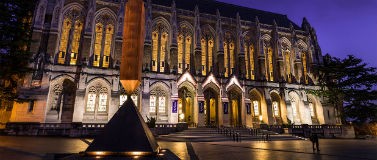 NOTE: excerpted from The Graduate School 12/3 digest
Latinx Scholars Graduate School Fellowship
Application Deadline: December 30, 2020, 5 p.m. PST
Graduate student must be enrolled full-time in a master's or doctoral degree program at the University of Washington;
Graduate student's research, work, and/or service must demonstrate their commitment to Latinx communities
Samuel and Althea Stroum Endowed Graduate Fellowship Award Call 2021
Application Deadline: February 26, 2021 (LOIs and reviewer nomination forms are due by January 5, 2021)
The University of Washington (UW) Graduate School in conjunction with the Diabetes Research Center (Diabetes Research Center) is soliciting applications for a graduate fellowship designed to broaden participation in research related to diabetes and its complications at the UW.
Eligibility: Any registered UW full-time graduate student pursuing diabetes-related research in a Ph.D. degree-granting program. Eligible disciplines include but are not limited to the basic and health sciences, social sciences and arts/humanities.
American Research Center in Egypt Fellowships
Application Deadline: January 18, 2021
For doctoral candidates and postdoctoral and professional scholars
Research to be conducted in Egypt
A range of stipends and travel costs available
Eligibility varies by specific award
UW Institute of Translational Health Sciences TL1 Research Training Program
Application Deadline: January 15, 2021
For UW predoctoral students
In Dentistry, Medicine, Nursing, Pharmacy, Public Health, Social Work, & other health-related fields
Stipend, 60% full-time tuition, and research funding
Restricted to U.S. citizens and permanent residents
Application Deadline: January 8, 2021
For graduate and undergraduate LGBTQ+ students
In any field
Residents of Alaska, Idaho, Montana, Oregon, or Washington state
---
ARCHCMEquity Diversity and InclusionFundingGraduateLARCHPh.D.REScholarshipsUDPShareTweet