Great Course for Community-minded Students!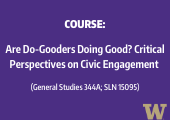 Are Do-Gooders Doing Good? Critical Perspectives on Civic Engagement (General Studies 344A; SLN 15095)
What does it mean to help people and "give back"? How is our current condition of social distance reshaping how we help one another? This course is for those that want to engage in critical reflection about what it means to "do good" and engage with multiple models of civic engagement that support a strong community.
General Studies 344 will explore the concept of civic engagement through case studies and guest speakers. Students will critically reflect on their own current and prior service experiences through personal and academic lenses, engage with ethical frameworks for community-based work, and examine their own identity in relationship to "doing good". The course will weave together analysis of current mutual aid movements, cross-disciplinary perspectives, and student's future academic/career goals.
Those with a record of community engagement (through volunteer work, organizing, etc.) will have the most to draw from in this course; those at the beginning of their community engagement journey are also encouraged to join the conversation! This is a three-credit course that is offered as credit/no credit. Synchronous online discussion sessions will be held Mondays from 3:30-5:20PM.
Those interested in the course should email engage@uw.edu with questions or to request an add code.
---