Headlines 2021, May 6 – June 4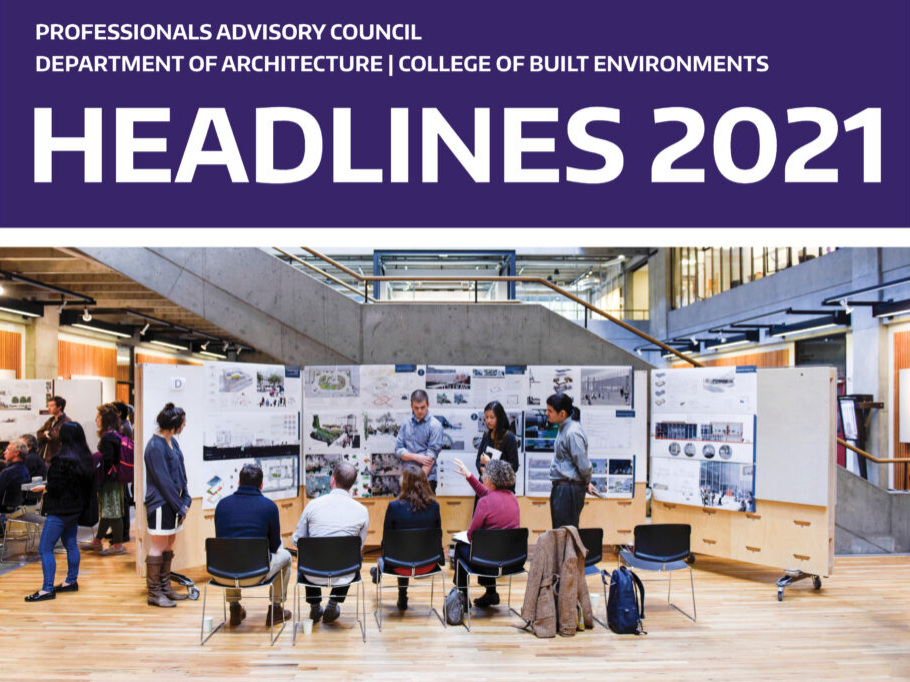 HEADLINES: Architecture Looking Ahead is an annual exhibit hosted by the Department of Architecture Professionals Advisory Council (PAC). It explores the genesis and evolution of the design process by showcasing unbuilt projects currently "on the boards" at local firms.
This year we are going digital! The digital exhibit will be organized into three categories: Process, Details, and Research/Innovation. During the Online Opening Reception on May 6th, attendees will have the opportunity to view entries and hear presentations on some of the projects in the show. All exhibit participants are encouraged to attend and are invited to discuss and share insights about their submissions with students and the public.
All proceeds raised from HEADLINES this year will be donated to the College of Built Environments Student Emergency Fund. The CBE Student Emergency Fund has given nearly $50,000 in funds directly to support students during this pandemic.
Exhibit Duration: May 6, 2021 – June 4, 2021
Location: We've gone digital this year! The exhibit will be hosted online.
Online Opening Reception: Thursday, May 6, 2021 at 6:00 p.m. PST. Save the date: event is free and open to all!
Entry Deadline: Friday, April 30, 2021 at 5:00 p.m. PST
---