IDL 2020 Annual Report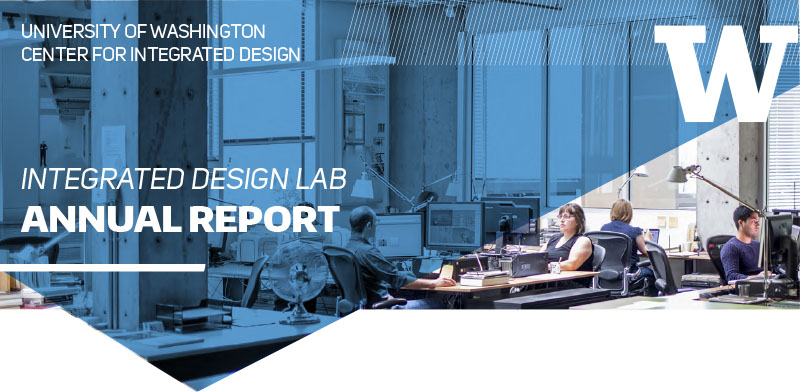 Dear Friend of the UW IDL,
The Integrated Design Lab is excited to share our 2019-2020 Annual Report, which highlights the lab's recent research, technical assistance, and education work.
2020 has been a tumultuous year to say the least. As we face a global pandemic and resulting health crisis and recession, wildfires rage among increasingly visible evidence of climate change and environmental degradation. We are called to renewed action for civil rights stemming from persistent social injustice and unprecedented stress on our systems of democracy. The pandemic has exposed many of the fissures in our society – yet it has also revealed the strength and resilience of our communities.
For this, we want to express sincere gratitude for the unwavering commitment of all of our partners. Including the utility support we receive from the Northwest Energy Efficiency Alliance (NEEA) and from individual utilities in the Puget Sound region. And, the staff at UW who helped us transition to new ways of distance working in what now feels like the blink of an eye. We also want to extend our deepest gratitude to the staff, faculty, and students of the lab who have gone above and beyond to maintain continuity of our programs and projects while taking on increasing burdens outside of the "office."
With your support, and despite the challenges that have arisen, we have had an incredibly productive year and are especially excited about our strengthened connections with our collaborators, clients and colleagues.
Particularly exciting is our work with the City of Seattle Office of Sustainability and Environment (OSE) on improving the performance of existing buildings. In seeking to develop technical and financial pathways for meeting the new State Clean Buildings standard, we are training our lens toward partnering with community-serving organizations and finding ways to bring efficiency resources to historically underserved stakeholders.
Our Partnership Initiative has entered its fourth year. The collective voice of the thirteen-firm Strategic Advisory Board has provided an unparalleled sounding board for our organization. The collective research that we are undertaking as a group has also seen great success, with the American Association of Architects (AIA) providing additional direct funding to expand the scope of the project. We are also thrilled to have welcomed Teresa Moroseos as a full time professional staff member in March.
We look forward to the next year, with more kindness, more equitable distribution of opportunity, and with hope that we can come together with evidence-based approaches to the challenges we share as we work toward a healthier, more productive, and sustainable future.
Christopher Meek, FAIA, IES
Associate Professor and Director
Heather Burpee, M. Arch, EDAC
Research Associate Professor
Director, Education and Outreach
---