Jacob Lawrence Gallery Curatorial Fellowship for BIPOC Graduate Students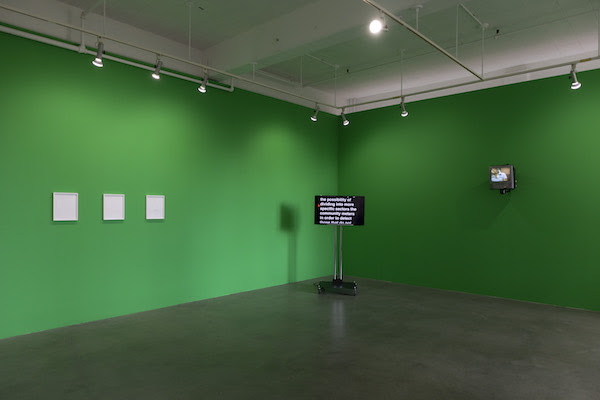 The Jacob Lawrence Gallery is accepting applications from BIPOC graduate students at the University of Washington for a curatorial fellowship. The fellowship provides support for an exhibition developed by a graduate student by offering them an $800 curatorial fee and a $1,200 budget toward artist fees. (The Jacob Lawrence Gallery is
W.A.G.E. certified
and requires that artists be paid a fee for exhibiting their work.) The selected exhibition will be on view from June 3 – July 8, 2021, in the Jacob Lawrence Gallery. The fellow will receive support from the gallery's Director + Curator, as well as two curatorial interns during installation and deinstallation of the exhibition.
Applications are due by April 15, 2021. Learn more about how to apply.
Image credit: Installation view of Angélica Maria Millán Lozano + Camilo Godoy: Lugar del Trabajo, curated by Juan A. Franco Ricardo (MA 2019), on view at the Jacob Lawrence Gallery from June 28 – July 20, 2019. Image: Juan A. Franco Ricardo.
About the Jacob Lawrence Gallery
The Jacob Lawrence Gallery is a space devoted to education, social justice, and experimentation that honors the legacy of one of the 20th century's greatest artists, Jacob Lawrence.
Situated in the University of Washington's Art Building, the Jacob Lawrence Gallery is a vital center for social engagement and critical dialogue about the roles of art, art history, and design within the broader context of intellectual life on campus. Through an ambitious and compelling program of contemporary exhibitions, lectures, performances, screenings, and discussions, the gallery is a site of knowledge production and discourse that serves over 8,000 visitors each year.
In 1994, the gallery was dedicated to one of the School's most renowned faculty members, Jacob Lawrence, who taught at the University of Washington from 1970–1985 and served as Professor Emeritus until the end of his life in 2000. The gallery is a tangible, living legacy of Lawrence's exemplary life and practice.
Of the 12 exhibitions presented each year, eight feature student work. In addition to these exhibition opportunities, the gallery hosts an internship program where students learn curatorial methodologies, exhibition design and production, and act as docents for the exhibitions on view.
Contact
Emily Zimmerman, Director + Curator, Jacob Lawrence Gallery, 
zimmee3@uw.edu
Merith Bennett, Constituency Relations Officer, 
mab4@uw.edu
The Jacob Lawrence Gallery is part of the UW School of Art + Art History + Design and is located in room 132 of the 
Art Building
.
---
ARCHEDIEquity Diversity and InclusionFellowshipsFundingGraduateLARCHStudentsUDPShareTweet