Land Back: Indigenous Landscapes of Resurgence and Freedom Virtual Symposium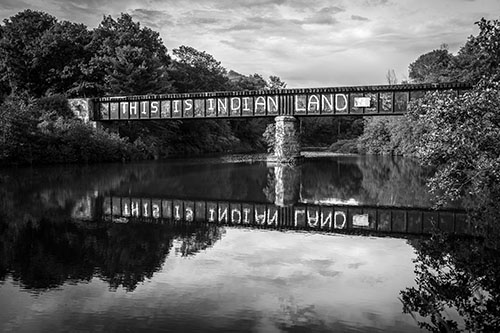 Garden & Landscape Virtual Symposium
Thursdays, 2:00-4:00 pm EST
April 29, May 13, May 27, and June 10, 2021
This symposium will be held virtually every two weeks on Thursdays from 2 to 4 p.m. ET: April 29, May 13, May 27, and June 10, 2021. The speakers' pre-recorded papers will be available two weeks prior to each webinar and shared with registrants. The webinar will include facilitated discussions on the papers, allowing the audience to ask questions via a chat format.
Relations to land are a fundamental component of Indigenous worldviews, politics, and identity. The violent disruption of land relations is a defining feature of colonialism and imperialism. Consequently, Indigenous resistance and visions for justice are bound up with land and land-body relationships that challenge colonial power. "Land back" is not only a slogan but significantly it suggests daily practices of care and collective organizing for Indigenous land protectors. "Unpacking and thinking about land means to understand the physical and metaphysical in relation to the concepts of place, territory, and home" (Goeman 2015, 72).
This symposium aims to highlight how Indigenous peoples understand and practice political resurgence and freedom across the Americas by refusing colonial territorializations of Indigenous land and life-making practices. We place Indigenous practices of freedom within the particularities of Indigenous place-based laws, cosmologies, and diplomacies, while taking a hemispheric approach to understanding how Indigeneity is shaped across colonial borders.
Registration is first come, first served and must be completed at least one week prior to each webinar is required.
Symposium Program
Session 1: Landscapes of Resistance
Papers available online: April 16
Discussion: Thursday, April 29, 2:00 to 4:00 pm EST
Discussion Facilitator: Sharlene Mollett, University of Toronto
Olivia Arrigho-Stiles: "Landscapes of Struggle: Indigenous Discourses on Nature in Bolivia, 1960-1990"
Ruth Matamoros Mercado: "Land and the Emergence of Miskitu People's Territorial Resistance in the Moskitia"
Deondre Smiles: "Landscapes of Federal/Tribal Sovereignty in Land Ownership and Cultural Resource Protection"
Session 2: Nature/Ecology
Papers available online: April 30
Discussion: Thursday, May 13, 2:00 to 4:00 pm EST
Discussion Facilitator: Clint Carroll, University of Colorado, Boulder
Lisa Myers: "Re-Inscribing land: Mike MacDonald's Medicine and Butterfly Gardens
Natasha Myhal: "Nmé as Elder Brother: Sustaining Ecological Memory through Indigenous Restoration"
Chief Vincent Mann, Ramapough Lunaape Turtle Clan, & Anita Bakshi, Rutgers University "The Munsee Three Sisters Medicinal Farm: A Ground for Cultural Restoration"
Session 3: Caring for Place
Papers available online: May 14
Discussion: Thursday, May 27, 2:00 to 4:00 pm EST
Discussion Facilitator: Dian Million, University of Washington
Nnenna Odim and Pavithra Vasudevan: "Moving with Land: BlackIndigenous Stories of Place"
Mandee McDonald: "Bodies, Land and Desire: Theory through Hide Tanning"
Miguel Melin and Magadelena Ugarte: "Language, Land, Law: Mapuzugun* as the Basis for Mapuche Land Use Planning"
Session 4: Movement/Thinking Across Borders
Papers available online: May 28
Discussion: Thursday, June 10, 2:00 to 4:30 pm EST
Discussion Facilitator: Isabel Altamirano-Jimenez, University of Alberta
Amrah Salomón J: "Decolonize the Border: Indigenous Abolitionism and Futurity in Transcolonial Zones"
James P. Miller: "Placemaking as Indigenous Resurgence in the Oceanic Diaspora"
Claire Thomson: "Mobility and Kinship as Expressions of Lakota Survivance and Resistance within Lakȟóta Tȟamákȟočhe (Lakota Country) Across Settler State Boundaries, 1881-1930"
Sofia Zaragocin, Universidad San Francisco de Quito "A Hemispheric Approach to Relational Place-Making between Indigenous, Black and LatinX Relations across the Americas"
Image: Garden River Bridge, Ketegaunseebee, Ontario, Canada. Image courtesy Stan Williams Photography, www.stanwilliams.ca
---
ARCHCEPConferencesEDIEquityEventsFacultyGraduateLARCHPh.D.ResearchStudentsUDPUndergraduateShareTweet