LARCH 498C Climate Changed Urban Agriculture: Exploring contexts for a more resilient future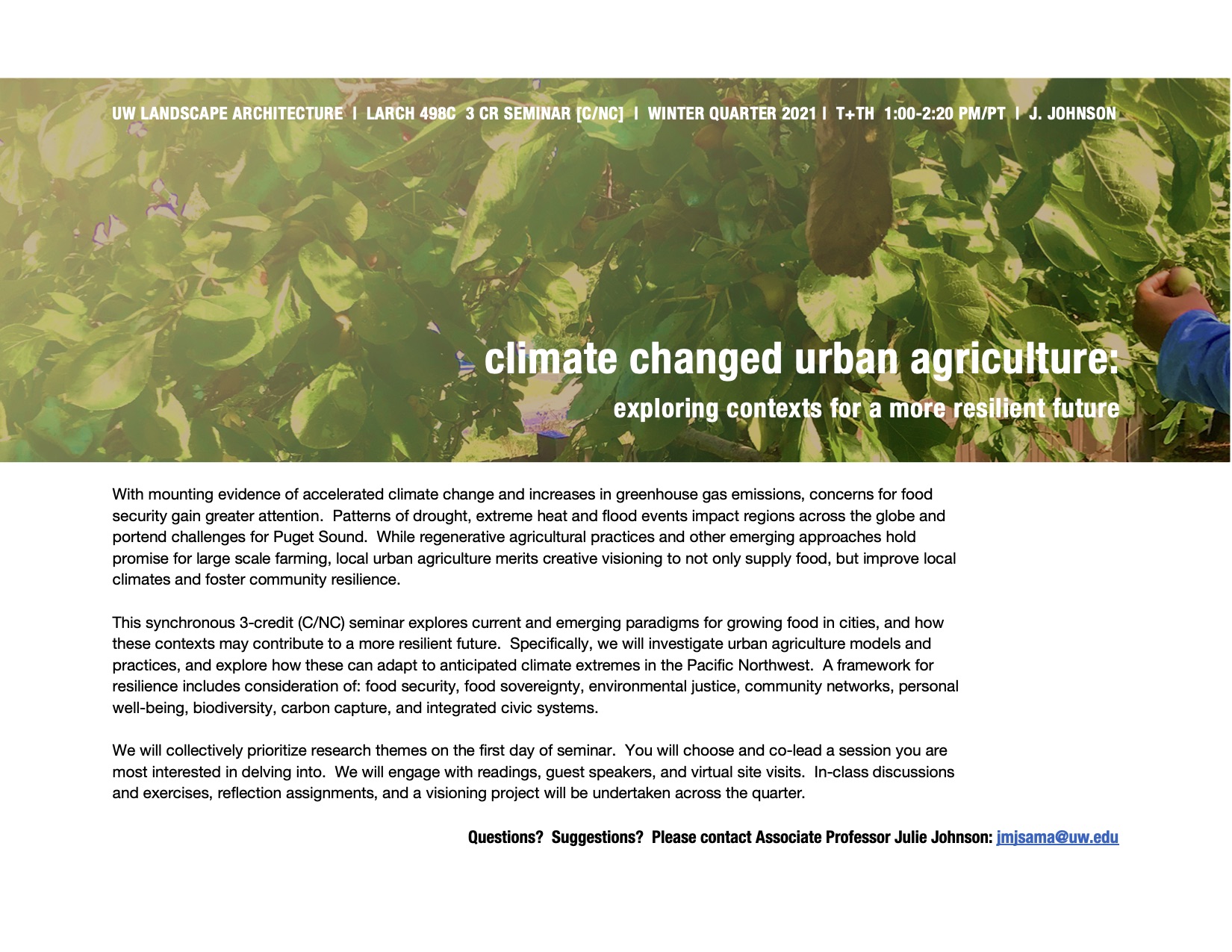 WINTER QUARTER 2021 | LARCH 498C | 3 CR SEMINAR [C/NC]
T+TH 1:00-2:20 PM/PT | J. JOHNSON
With mounting evidence of accelerated climate change and increases in greenhouse gas emissions, concerns for food security gain greater attention. Patterns of drought, extreme heat and flood events impact regions across the globe and portend challenges for Puget Sound. While regenerative agricultural practices and other emerging approaches hold promise for large scale farming, local urban agriculture merits creative visioning to not only supply food, but improve local climates and foster community resilience.
This synchronous 3-credit (C/NC) seminar explores current and emerging paradigms for growing food in cities, and how these contexts may contribute to a more resilient future. Specifically, we will investigate urban agriculture models and practices, and explore how these can adapt to anticipated climate extremes in the Pacific Northwest. A framework for resilience includes consideration of: food security, food sovereignty, environmental justice, community networks, personal well-being, biodiversity, carbon capture, and integrated civic systems.
We will collectively prioritize research themes on the first day of seminar. You will choose and co-lead a session you are most interested in delving into. We will engage with readings, guest speakers, and virtual site visits. In-class discussions and exercises, reflection assignments, and a visioning project will be undertaken across the quarter.
Questions? Suggestions? Please contact Associate Professor Julie Johnson: jmjsama@uw.edu
---