Letter re: CBE/CSDE Partnership Rollout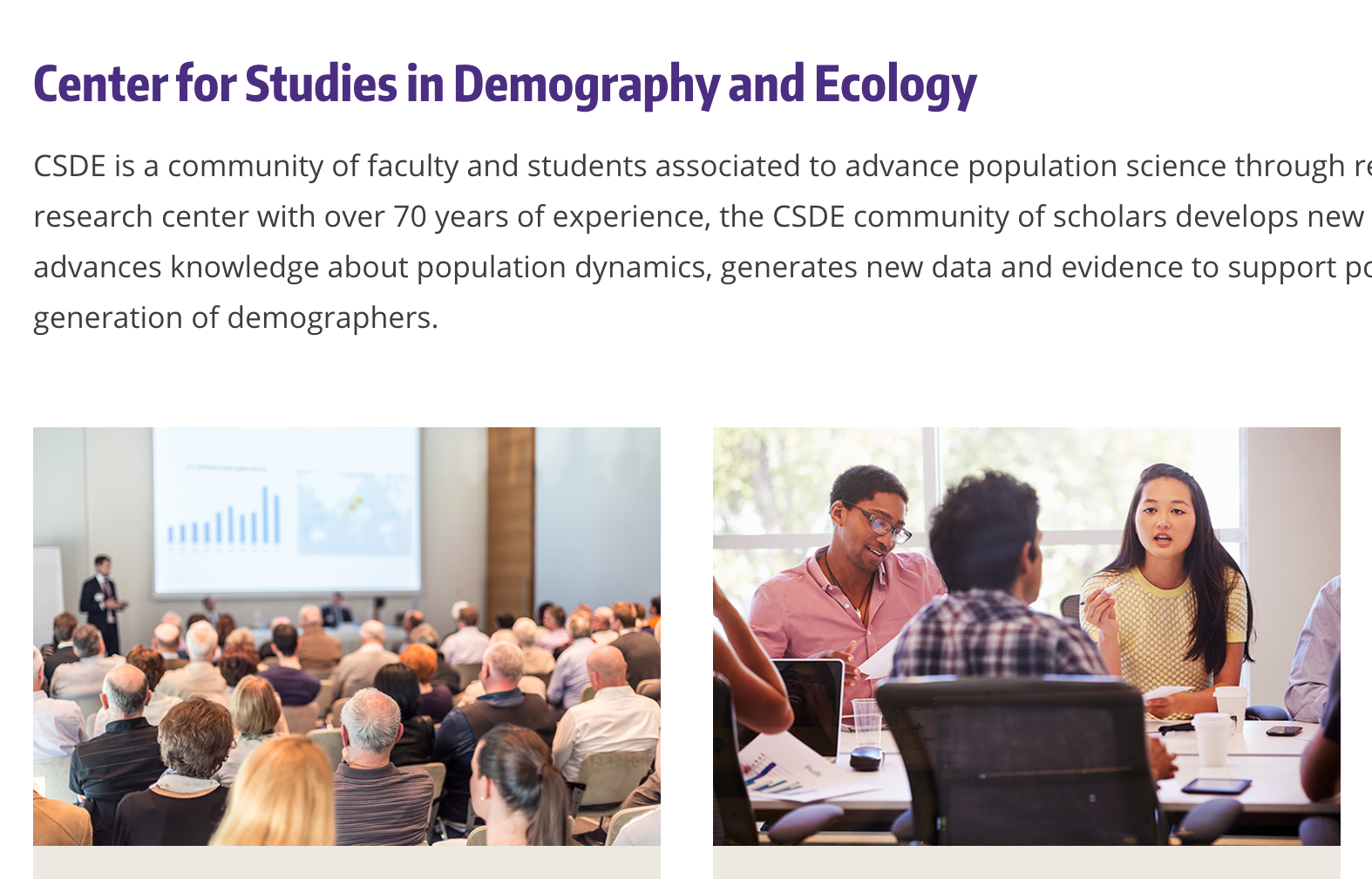 Dear Colleagues,
I am excited to share updates and next steps for what is now the formal partnership for research administration support between The Center for Studies in Demography and Ecology (CSDE) and the College of Built Environments. This information will also be available on our website for you to return to as needed. We will also discuss this in the All College meeting on Wednesday, and in faculty meetings next week.
Why this partnership, why now:
In discussions with you and from dialogue in the past year of strategic planning, I have heard that many CBE researchers feel maxed out and, particularly for those pursuing sponsored research, undersupported in pre-award and post-award management. To build on CBE research successes and reach the goals elucidated through the strategic planning process, CBE researchers need increased levels of research support. I believe that more support for sponsored research will lead to greater capacity, funding, and effectiveness for ALL research activity throughout our college.
While we considered hiring a grants administrator internally, we decided to go further and explore a partnership with one of the more robust research centers on campus, CSDE to get access to a team of experts. Many of us have experienced CSDE's level of partnership as affiliate faculty with this program, and I am confident that the benefits of this partnership will serve our research admin needs and support CBE research across the college both directly and indirectly.
Goals: 
By working with CSDE to provide CBE faculty and research staff greater support for sponsored research, we aim to:
Give CBE researchers access to skilled administrative and strategic partnership to meet pre-award and post-award guidelines including complex, detailed, and specialised requirements. As experts in sponsor guidelines, eRA systems, Human Subjects, and UW policies & procedures, CSDE can help CBE produce higher quality proposals.
Amplify the time CBE researchers spend on proposals and research, allowing them to focus on the core scholarly efforts.
Increase the amount of funded research supporting CBE faculty, staff and graduate students.
Recover more funds to support other types of research, eg the new CBE "Inspire Fund" for community-engaged; arts & humanities; and underfunded scholarship.
Fund greater capacity to support more sponsored research!
We also expect that this partnership will improve the research capacity of both CBE and CSDE, through:
Developing successful strategies for applying to a broader array of funding sources.
Clarifying and improving research support processes.
Sharing funding opportunities, research successes and other knowledge among the two communities.
Co-creating training and procedures that increase PI proficiency in writing and managing grant-funded research.
Growing capacity for substantive collaboration on grants between CBE and CSDE communities.
Leveraging content expertise in both units to foster innovation, scholarship and partnerships.
In addition, we want to ensure that the partnership is mutually beneficial and to understand the potential for long-term sustainable operations. This includes that:
Funds generated from the partnership underwrites the investments for both partners
Workload is balanced and processes promote an effective partnership
Mutual learning and improvement, including clear measurements of success at the end of the 2-year feasibility study (2020-2022)
Through this partnership I believe we will see the following impacts:
CBE researchers will be able to focus more on research rather than administration;
PI's will see an increase in productivity, effectiveness, and satisfaction;
Our submitted proposals will be more likely to be awarded funding;
We will make progress toward many of the aligned goals of CBE's strategic plan;
UW leadership, community partners, peer institutions and other stakeholders will further recognize the robust CBE research portfolio and its impacts;
We will create more supported, more collaborative and more generative research culture for all scholars in CBE, no matter how their scholarship is funded.
Our rollout plan:
CSDE began supporting a subset of pre-award and post-award efforts on March 2020.
This fall, CBE researchers are encouraged to work with CSDE on new proposals submitted to Office of Sponsored Programs (OSP).
CSDE will provide post-award management to all grants awarded through their pre-award support.
As of January 1, 2021, CSDE will support all new pre-awards submitted through OSP.
Through June 2022, CSDE and CBE-Office of Research will be working to define and improve research admin partnership processes and to measure success with respect to the above goals. We will report back to the CBE community regularly.
We will also be sharing the MOU which has more details on the scope and workplan.
How you can help:
I want to acknowledge that this will be a cultural shift for those doing sponsored research in our college. Many of us have developed work processes without the support that CSDE provides. We are also in the habit of putting in proposals in a very short time frame by relying on our very accommodating but overloaded staff. In order to realize our shared goals for this partnership, we will need to shift our thinking and behavior. You can help by starting your proposal early. 
As soon as you know of an opportunity, submit the CSDE intake form.
CSDE staff balance a portfolio of research proposals and grants from around UW–we are not their only partners, and they need time to plan their workloads.
The earlier you connect to CSDE, the more time they can spend on your project and the stronger your proposal will be.
The deadlines below allow CSDE staff to spend the needed time on your proposal as well as have the space in their schedule to address last-minute adaptations.
Proposal submission deadlines:
Submit a proposal planning intake form 8-12 weeks prior to the funder's deadline. Don't know the details? Haven't confirmed your team? That's ok. Let CSDE know you are thinking about a pursuit. If you change your mind, they can take it off the schedule.
If you have sub-awards, start working on those 7 weeks before the funder's deadline.
Plan to begin routing the eGC-1 11 business days before the funder's deadline.
These policies are modeled on the UW OSP's Proposal Development Timeline Policy, with the goal that CSDE staff can budget their time and do the background research required to support proposals effectively.
Please reach out:
We are excited to see this partnership take shape, and expect that, while there will be adjustment pains, the rewards will far exceed these adjustments. Feel free to reach out with questions or concerns. We are looking to continually improve and develop this partnership to meet the needs of all CBE researchers, so let us know how we can help.
Carrie Sturts Dossick
Associate Dean for Research
FAQs: 
Q: What if my funder announces an opportunity with only a month to respond? OR what if I am invited by a colleague from another institution at the last minute?
A: We know that invitations to participate and calls for proposals come in last minute. CBE statistics show that rushed proposals are less successful than ones that follow the established timeline. It is important to recognize that the scramble to meet tight deadlines can aggravate the burnout that many are currently reporting. If you say NO to a last minute pursuit, we will help you find other funding opportunities for that idea with a better timeline that may be a better use of your time. That said: if you still want to pursue a last minute invitation, as soon as you know of an opportunity, submit the CSDE intake form and we will work with you to see what can be accomodated. The CBE Office of Research is committed to building a culture that supports research and prepares researchers to strategically pursue the opportunities that come, and will continue to come, our way.
Q: What does CSDE support entail and what does it cost? 
A: The CBE partnership with CSDE includes both pre- and post-award support. Post-award will be detailed later this quarter, as we map and solidify our processes and partnership. This partnership is in a feasibility study phase, as we explore the costs, benefits, and associated risks and rewards.
Cost of these services are paid in the following ways:
Using UW Provost support and college ICR distributions, CBE has funded a 100% FTE grants manager position in the CSDE team for two years. The grants manager, Belinda Sachs, provides CBE's pre-award support (and also supports other CSDE proposals).
Other CSDE staff dedicating FTE to this partnership include Sara Curran, Scott Kelly, Angie Thai, and Gianna Cannataro.
In CBE, Rachel Ward, Carrie Sturts Dossick, and Jen Davison also support this partnership.
Over the next two years, CBE will also share Indirect Cost Recovery (ICR) distribution from awards that are routed through CSDE (explained in box below).
For any funded project with ICR, the university takes 65% ICR, giving 35% back to the college that the project lives within.
For the purposes of this partnership: of the remaining 35%, CSDE will receive 23% and CBE will receive 12%.
Within CBE's portion, the amount is split between the College (6%), the Department (3%) and the PI (3%).
This fiscal model will be evaluated in summer 2022 at the end of the feasibility study period, and negotiated for the next phase of the partnership.
Q: What does this mean if I'm a researcher who does not typically pursue sponsored research?
A: First, if you are not familiar with sponsored research but would be interested to learn more, CSDE and CBE Office of Research would be happy to talk about opportunities that match your interests.
Second, everyone benefits if the CBE research engine is vital and active. More knowledge is generated, more impacts are realized, and CBE receives more funds to support our staff, facilities, and you. This builds our reputation, supports our graduate students, and creates a more vibrant research culture and community.  Third, we are excited to be launching the CBE Inspire Fund, seeded with ICR and ARC funds and intended to support those not typically pursuing sponsored research. We expect this internal fund to grow as sponsored research grows.
---
ARCHCMCollegeFacultyFundingGraduateLARCHPh.D.REResearchStaffUDPShareTweet