Makers Summit 2022 – submit by March 20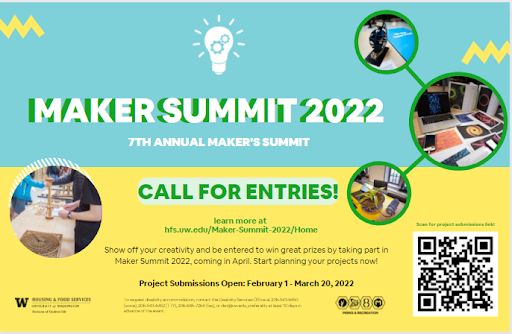 Hello, 
This year's annual UW Maker Summit is April 1 – 8, and you're invited! The UW Maker Summit will bring together some of the most creative and innovative talents that the UW community has to offer. We invite you to submit a project for the chance to win a cash prize, attend the Art Walk and Film Festival, or attend a workshop or maker event! Please visit the Maker Summit website to see all of the fun offerings and opportunities happening that week. 
Submit your project
This year we're offering 6 categories for participants to submit their project:

Digital Art

Software

Art

Gizmos

Film

Other



Folks are encouraged and welcome to submit any project of their choosing. We would love to see a variety and diverse forms of making showcased!
Submit a Project, Win a Cash Prize
All UW students, staff, and faculty are welcome to submit a project to the 2022 Maker Summit. All projects will be showcased virtually on our website, and the audience will have the chance to vote for their top 3 favorite projects in each category. 
Cash prizes will be awarded to First place ($200) and Second place ($100). All first place winners in each category will be entered into a raffle for $500! 
Submit your project no later than Sunday March 20, 2022. For information on how to submit a project, please read our Submissions Instructions.
Thanks,
PERKS & RECREATION
Housing & Food Services
hfsperks@uw.edu / hfs.uw.edu
---
CollegeEventsExhibitsFacultyGraduateOpportunitiesStaffStudentsShareTweet