Mandarin Chinese-Speaking Student Sought for MPOP Internship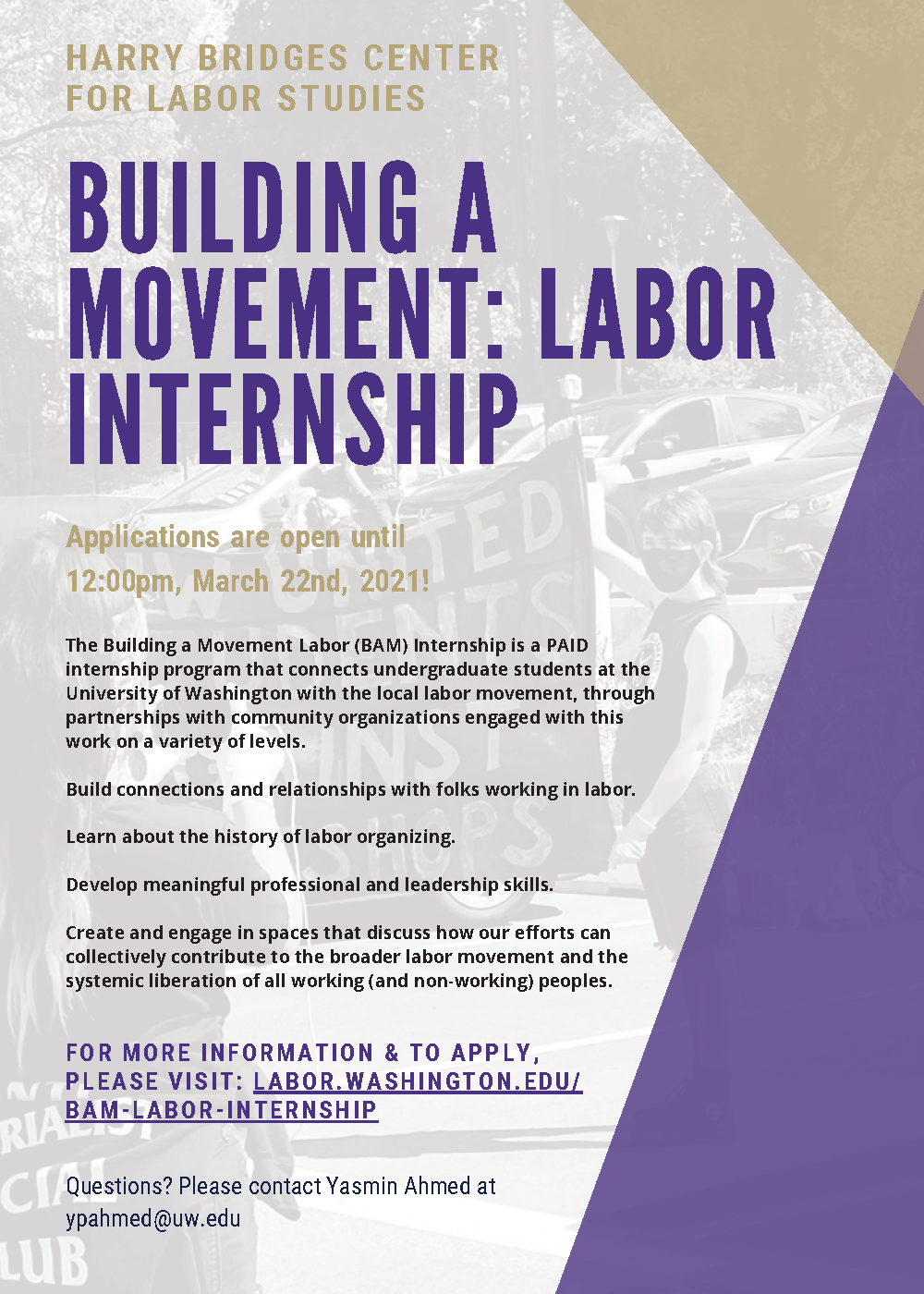 The Harry Bridges Center for Labor Studies is currently seeking a Mandarin Chinese-speaking undergraduate student at the University of Washington for a paid internship position with Seattle's Massage Parlor Outreach Project (MPOP).
MPOP provides outreach support for Asian immigrant massage workers in Chinatown ID, connecting workers with resources and information about workers and immigrant rights, and seeking to build community. MPOP is an affiliate of API Chaya, an organization serving Asian, South Asian, and Pacific Islander survivors of domestic violence and sexual assault, survivors of human trafficking from all communities, as well as victims of general crimes.
To learn about MPOP's work in the wake of the Atlanta murders of Asian massage parlor workers, read this recent article in Mother Jones, which highlights the group's work in the Seattle area.
This specific internship will support the Massage Parlor Outreach Project (MPOP) with outreach, research, and advocacy. MPOP works in the realms of culture, support systems, migrant connection, and healthy working environments to uplift sex worker and labor rights of massage parlor workers. Significant projects include: Outreach, Advocacy, and Content Development.
This position is offered through the Building A Movement (BAM) Labor Internship (flyer attached), a paid internship program that connects undergraduate students at the University of Washington with the local labor movement, through partnerships with community organizations engaged with this work on a variety of levels. Students who are invested in labor and social justice advocacy are given the opportunity to explore how organizations work to make systemic and community-level changes for the benefit of working people, and make meaningful contributions to that process.
Hours, Pay and Academic Credit
Students are expected to work 10 hours per week and to attend weekly 1 hour meetings with other BAM interns (11 hours total). Students will be compensated at a rate of $17/hr, which includes their hours spent working with their host organization and a weekly meeting with other BAM Labor Interns, and Yasmin Ahmed, HBCLS Assistant Director of Student and Community Engagement. Academic credit may be available.
More About the Internship Position
API Chaya empowers survivors of gender-based violence and human trafficking to gain safety, connection, and wellness. We build power by educating and mobilizing South Asian, Asian, Pacific Islander, and all immigrant communities to end exploitation, creating a world where all people can heal and thrive.
MPOP is a grassroots community effort that adapts constantly to local events, shifting needs, and fluctuating resources. Leadership tends to change project by project as well, so there will be opportunities for the intern to coordinate and run the project. We work with a flexible nature and have a wide scope of projects that will allow the intern to tailor their time according to their skills and interests. However, we may adjust and re-prioritize projects along the way. MPOP also offers both a strategic and on-the-ground experience with organizing. Because outreach is an important aspect of our work, the intern should be comfortable initiating conversations, building rapport, and fostering connections. Outreach is typically done in pairs. Our work is closely tied to immigrant rights and worker's rights, so we recommend coursework in Labor Studies, Gender Studies, Public Health, or Social Work. For more information, visit the MPOP website.
Position Responsibilities: 
* Outreach (Mandarin Chinese proficiency required): Build connections with the workers by distributing zines and other materials to the massage parlors, supporting communications on WeChat, and interviewing/transcribing interviews with workers who want to share their stories in a collection of oral histories.
* Advocacy: Research national and regional policies as well as community dynamics that impact the lives of massage parlor workers. Propose engagement opportunities and educational content for both the workers and the community. Build a database of potential grants and help prepare submissions.
* Content Development: Propose, coordinate, and create content for zines that are used as outreach materials for the massage parlor workers. Build additional awareness and educational content for community members and social media.
How To Apply
To access the application form, visit the BAM Labor Internship website at https://labor.washington.edu/bam-labor-internship . The priority deadline for applications is Monday, April 7, 2021. Afterwards, applications will be accepted until the position is filled.
Questions?
Contact Yasmin Ahmed, Bridges Center Assistant Director, at ypahmed@uw.edu.
---