Martin Family Foundation Achievement Scholarships application open!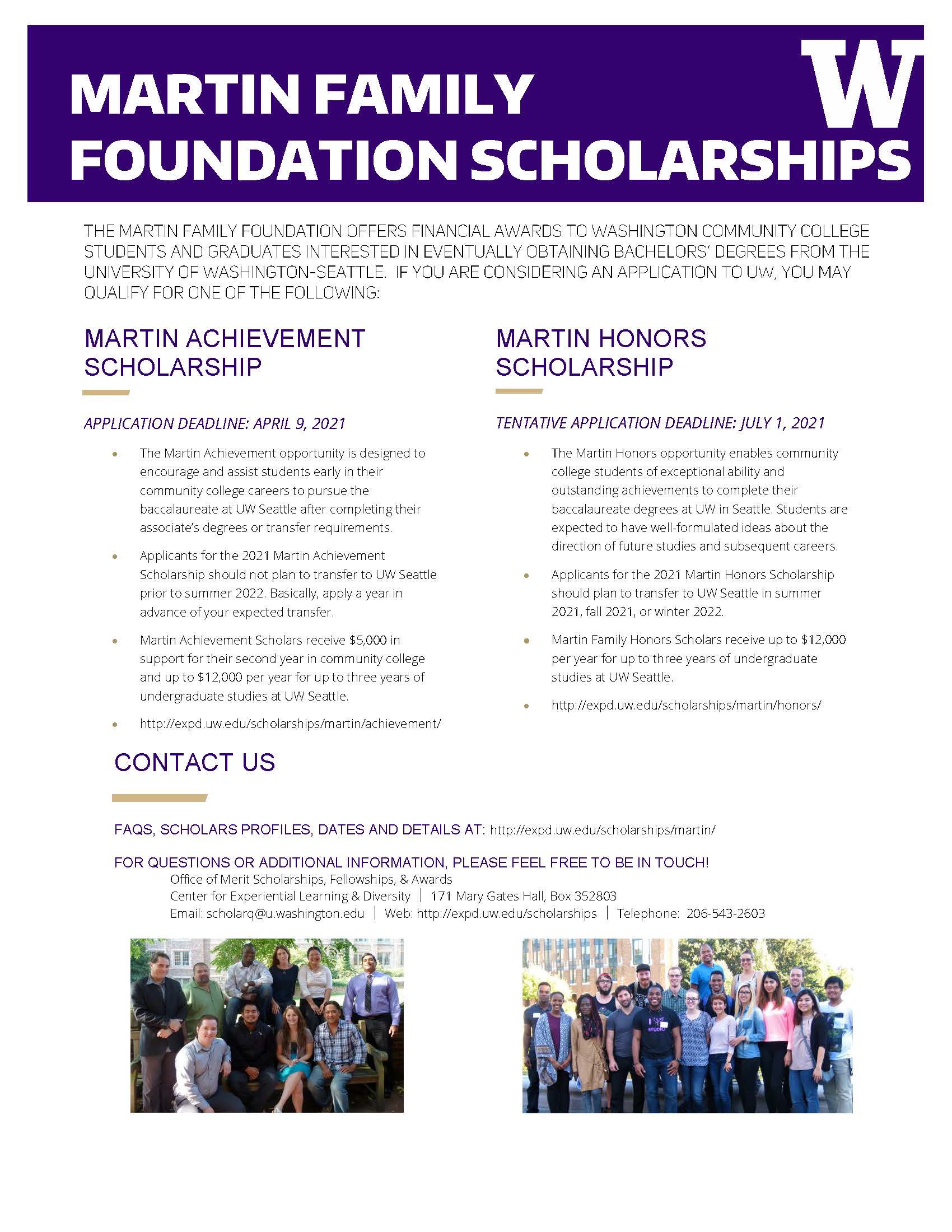 Open now: The Martin Family Foundation Achievement Scholarship application is now available at https://new.expo.uw.edu/expo/scholarships/martinachievement. Deadline for applications is April 9, 2021.
This scholarship is open to students who have another year of full-time enrollment left to complete at their community college and are looking forward to transferring to UW Seattle during the 2022-23 academic year (summer 2022 or later). The scholarship provides $5,000 during the final year at community college and $12,000/year at UW Seattle (contingent upon admission). Eligibility is limited to Puget Sound-area community college students (please see eligibility details below).
Opening in May: The Martin Family Foundation Honors Scholarship application will open in May for students transferring from any community college in WA to UW Seattle for the coming 2021-22 academic year. This scholarship provides $12,000/year for students once admitted to UW Seattle (contingent upon admission).
Additional Details About the Martin Achievement Scholarship: Apply by April 9, 2021
The Martin Achievement Scholarship program supports students who have demonstrated signs of exceptional ability in art, humanities, music, science, and/or leadership at one of the fifteen community colleges located around the Puget Sound region. The program selects Martin Achievement Scholars early in their community college career and will fund, encourage and support their study and eventual transfer to the University of Washington (Seattle campus only). Martin Achievement Scholars may receive $5,000 in support for their final year at their community college and up to $12,000 per year for up to three years at UW (contingent upon successful admission to UW Seattle).  Awarded on a competitive basis, the Martin Achievement Scholarship recognizes promise and accomplishment in academics, leadership, or contributions to the community.
Eligibility
Applicants must:
Be Washington State residents who meet any one of the following three categories:
o   US citizens, or
o   US Permanent Residents, or
o   Eligible for in-state tuition by meeting either HB 1079 or DACA standards. For additional information about HB 1079 or DACA standards qualification, please visit https://readysetgrad.wa.gov/wasfa-washington-application-state-financial-aid  and please read about UW's requirements at https://www.washington.edu/financialaid/hb-1079-real-hope/ and https://depts.washington.edu/reach/hb-1079undocumented-students/. Not sure if you meet this requirement? Please contact Robin Chang: robinc@uw.edu or 206-543-2603.
Be currently enrolled students at Bellevue, Cascadia, Edmonds, Everett, Grays Harbor, Green River, Highline, North Seattle, Olympic, Peninsula, Pierce, Seattle Central, Shoreline, South Seattle or Tacoma Community College pursuing their first baccalaureate degree;
Have earned a minimum of 15 community college transfer credits.
The selection committee gives no consideration to an applicant's gender, race, color, creed, or national origin.
Applicants for the 2021 Martin Achievement Scholarship should not plan to transfer to the UW-Seattle prior to the summer 2022.
Additional information about this scholarship, including current and previous scholar profiles, is available at http://expd.uw.edu/scholarships/martin/.
---
ARCHCEPCMLARCHOpportunitiesREScholarshipsStudentsUDPShareTweet