NEW Foster School of Business Minor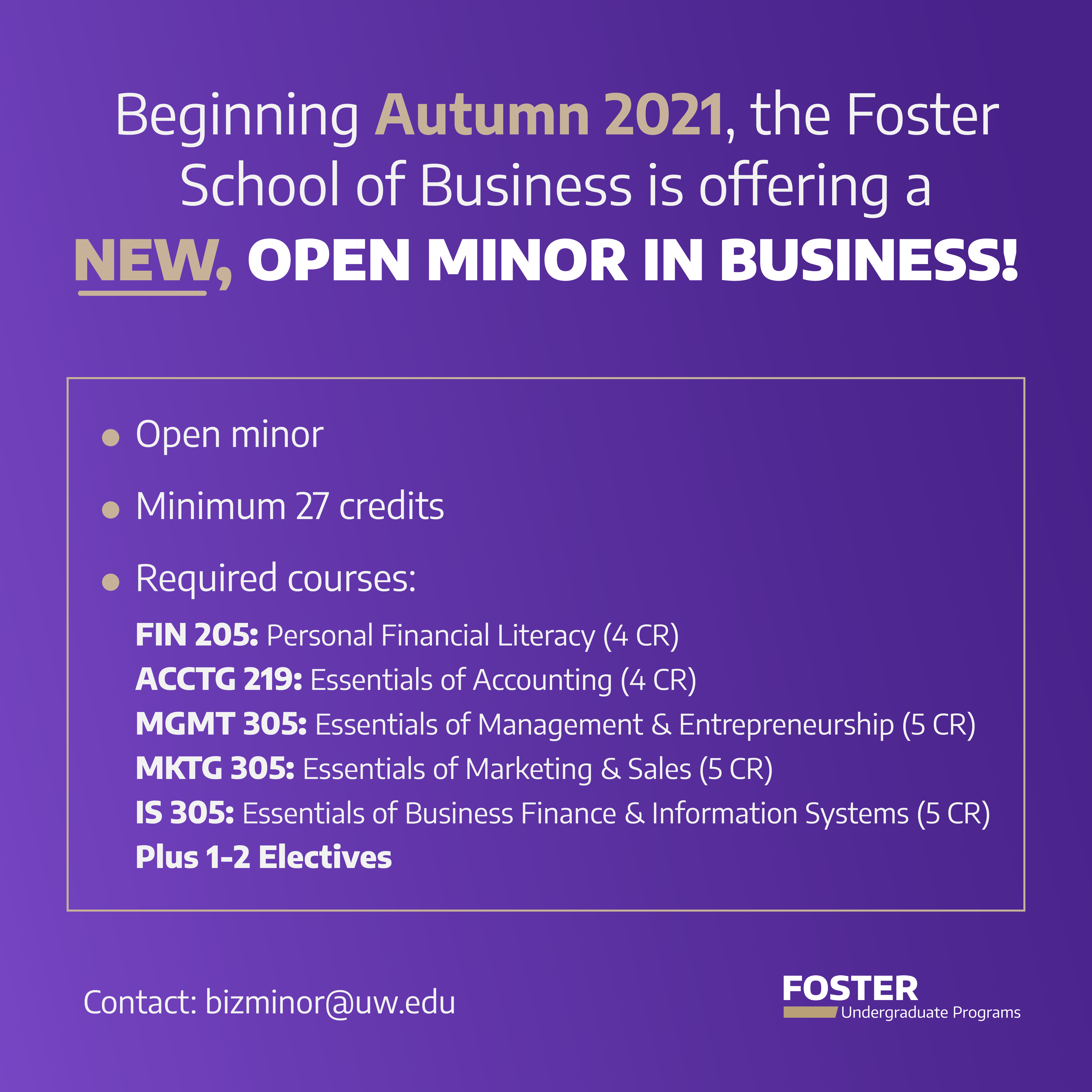 WHAT:
In response to high unmet demand for business classes from students across the UW, Foster is now offering a Business Minor!  We created five core business courses (delivered virtually) designed for non-business majors.  Inaugural faculty members for these core courses are three 2020 Faculty of the Year award winners as voted by students, so students will be learning from top Foster faculty members.
WHEN:
The Business Minor is launching in Autumn 2021.  It is an open minor, so all advisors may submit the Change of Major/Minor form to declare students, effective for Autumn 2021.
AUTUMN 2021 COURSES OPEN!
MKTG 305: Essentials of Marketing & Sales (5 CR, prerequisite: 45 credits completed, offered virtually)
ACCTG 219: Accounting Essentials (4 CR, offered virtually)
SPECIAL NOTE FOR STUDENTS APPLYING TO THE BUSINESS MAJOR:
The courses in the minor cannot replace the prerequisites to apply to the Foster School major and cannot replace degree requirements in the major.  These courses are specifically designed and only appropriate for non-business majors pursuing the Business Minor (some courses also apply to the Entrepreneurship Minor and Professional Sales Program).
QUESTIONS?
Visit our website: Business Minor | Foster School of Business (uw.edu)
Further questions can be directed to the Business Minor advisor, Sarah Allex, at bizminor@uw.edu.
---
ARCHCEPCMCollegeLARCHMinorNewsOpportunitiesREStudentsUndergraduateUndergraduatesShareTweet