Prototype Funding Available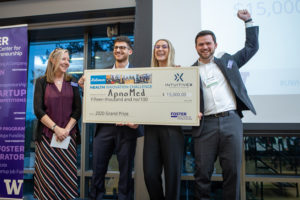 Apply for Prototype Funding– Deadline December 7
Are you interested in applying to the Hollomon Health Innovation Challenge or Alaska Airlines Environmental Innovation Challenge? Prototype funding is back this year to help you make your model/prototype. Apply now!
Some restrictions apply. Application closes December 7, 2020 at noon PT.
Info Session:Learn more about the Prototype Funding Application
Tuesday, November 17 | 12:30 – 1:30 pm PT
Register now!  (Zoom link will be sent prior to the session)
Join us for an optional info session on this year's prototype funding application process. Help prepare yourself for the virtual competitions and the upcoming prototype funding application deadline: December 7.
Can't make it? E-mail your questions to Lauren, brohal@uw.edu
Wednesday, November 18 | 4:30 – 5:30 pm PT
Have an idea that will have a positive impact on the environment, or interested in helping someone else do so? This team formation event is for you! Opportunities for innovation abound: from "zero waste" to agriculture, transportation, policy, energy, carbon tech, and beyond. Come connect with students who have ideas or could be on your team. You'll also have a chance to learn more about the Alaska Airlines Environmental Innovation Challenge.
Open to all registered UW students – all ideas, all levels! | RSVP for Zoom link
---