Seeking undergrad research assistant for Benjamin McAdoo Research Collective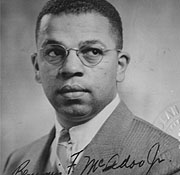 Wanted: Undergraduate Research Assistant for Benjamin McAdoo Research Collective


Searching for an undergraduate student researcher and writer to contribute to the Benjamin McAdoo Research Collective.  Sponsored by the CBE Vision Fund, this project will focus on celebrating the life and work of Benjamin McAdoo – a prominent Black architect during the midcentury period in the Northwest.
 
Student will assist in activities like digital research, mapping of properties, connecting with community and professional partners, resource collection, presentation of material and writing.  Applicants should be undergraduates within the College of Built Environments, and have an interest in the architectural history of the Northwest.
Qualifications:
Ability to synthesize information from multiple sources to create presentation materials
Ability to present information to a diverse audience which may include students, academics, professionals and the general public
Ability to build rapport with diverse stakeholders
Ability to prioritize tasks, understands resource collection techniques and can categorize architecture documentation
Familiar with research techniques including information retrieval methods from a variety of sources and citation methods
Willingness to learn from feedback to prepare multiple document drafts, skilled at proofreading and editing
Position will begin with the Spring quarter (March 29), and consist of hourly employment of approximately 10 hours per week for the 10-week quarter at standard CBE rates.
Interested students should email Tyler Sprague (
tyler2@uw.edu
) for more information.  Applicants should send with a short description of their qualifications and interest in this project to Tyler Sprague (
tyler2@uw.edu
).  Deadline for application is Wednesday, March 3rd.
At CBE we believe that Equity, Diversity, and Inclusion (EDI) are essential to meeting our goal of a more just and beautiful world. We believe that focusing on equitable and inclusive principles in the built environment, elevates diversity and justice, and results in increased health, wealth, and deeper levels of engagement for everyone. We are an equal opportunity employer that will honor your experiences, perspectives and unique identity.
---