SketchUp Help Needed for Youth Achievement Center Project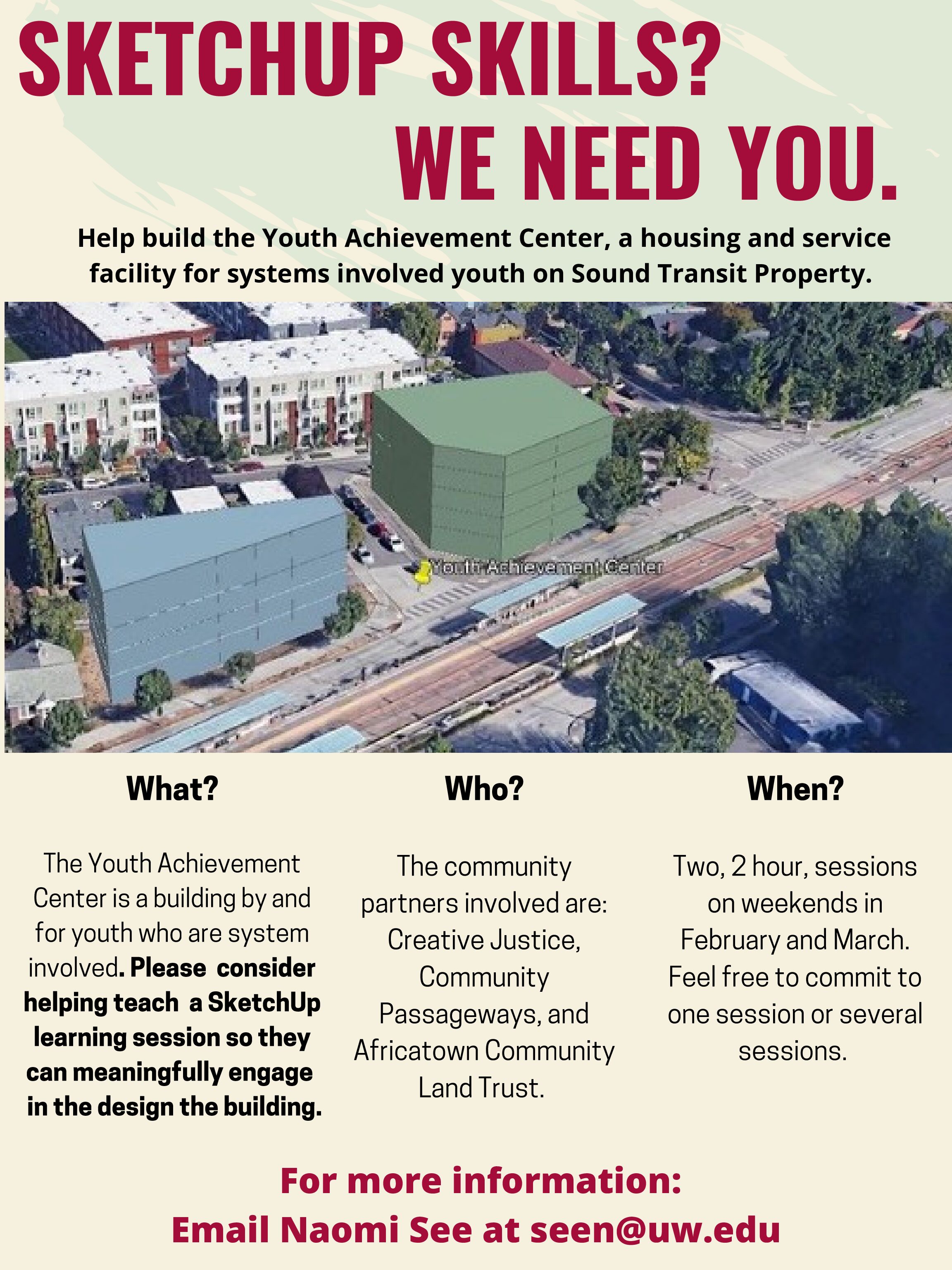 My name is Naomi See and I am an undergraduate student at the University of Washington in CEP.
I am supporting the work of Africatown Community Land Trust, Creative Justice, Community Passageways, King County Councilmember Girmay Zahilay, the King County Assessor's Office, and Sound Transit to develop the Youth Achievement Center on 2 parcels owned by Sound Transit at the Columbia Light Rail Station.
The Youth Achievement Center will be a facility where system involved youth can receive housing and services. The land is set be transferred from Sound Transit to the community-based organizations in the next few months. Currently, we are going through a series of design ciphers with youth.
We are looking for students to help host a SketchUp Design workshop for youth who are involved in designing the project.
If you could, please consider dissipating the attached flyer and my description of the project to your student networks. We are looking for students who have some experience with Sketchup.
We will be hosting several, two-hour long sessions in February and March where architects will be designing a curriculum for the youth. Students would be helping in breakout rooms to answer individual questions and to guide youth through the architect's tutorials. Students are free to commit to one or several sessions.
We are waiting to see if the event will be completely virtual or in person, but there will be a virtual option regardless.
Please feel free to email me <seen@uw.edu> with any questions you may have and direct students to me for additional information.
Thank you so much for your work on this! Let's make something happen here!
---
ARCHCEPCMEquity Diversity and InclusionLARCHOpportunitiesREStudentsUDPShareTweet