SMARTCITY 2021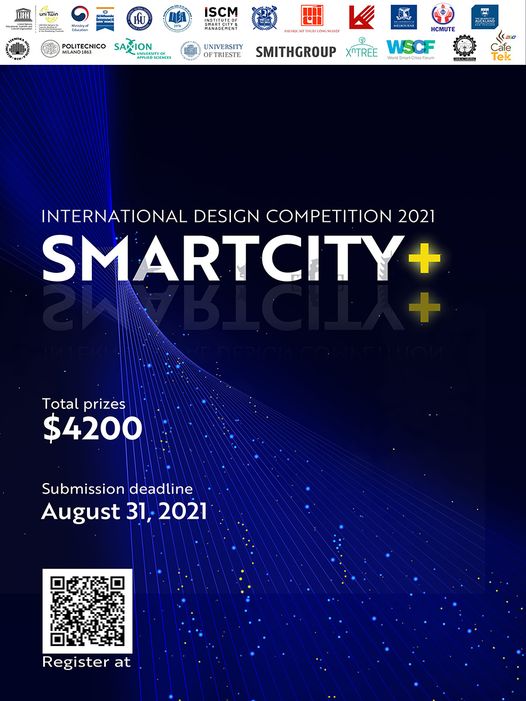 The Institute of Smart City & Management (ISCM) – University of Economics Ho Chi Minh city is pleased to inform you about the International Design Competition "SMARTCITY+".
"How Smart cities will deal with urban challenges" and "How  integrated technology and other fields can be applied to solve the urbanization crises?". To answer these questions, the annual design competition launched by the Institute of Smart Cities and Management. – University of Economics Ho Chi Minh City collaborated with nearly 20 partners will be held the second time in 2021 with the theme "SMARTCITY+".
This year's contest aims to call for ideas to propose designs to enhance urban identity towards smart cities. Ideas need the integration of technology, materials, aesthetics and spatial organization combined with research on local cultural factors, adaptability, globalization, and vision for future urban environment.
Competition is open to design students all around the world.
For more information, please visit:
▶ SMARTCITY+ brochure:
https://drive.google.com/file/d/1fPYLsbkyMJ5GnQe33_qKcFRE01U01ufK/view?usp=sharing
▶ Registration form:
https://docs.google.com/forms/d/1Xw-W5QsN5LBCPwYg1bD3Gk1Uc2rn0gPsL3sv7v5ju14/edit?fbclid=IwAR264_X-pA-gxVTnhItP8N8-yH4Htv-mtNjs1Ff1PMr38N6odP7-136brMc
▶ Link post on Fanpage: https://www.facebook.com/ISCM.UEH/posts/272816814390224?__cft__[0]=AZWj3_SDp2wsp1v5prhm4jtDVPTewHFIOtbAQYLasRtVO2mCUd0suhmMINGoQC7MWHAd3vlOq-zWvkowrTtiwWQTYprS8pi1r-WexUVmNqeVA8n_v3SZDFeJR5oTd2o9oqnNW9igx3cAiu84Zg0lO6ckLowrPCulC2nerIZA9oi19A&__tn__=%2CO%2CP-R
▶ Link post on web: https://iscm.ueh.edu.vn/article/events/1617515400
Should you need any further information, please do not hesitate to contact us.
Website: https://iscm.ueh.edu.vn/
Fanpage: https://www.facebook.com/ISCM.UEH
LinkedIn: https://www.linkedin.com/company/68028770
Youtube: https://www.youtube.com/channel/UCtoJ5ZFc9yLiPFRY_UcIoBg
---