SMEA Spring EJ Speakers Series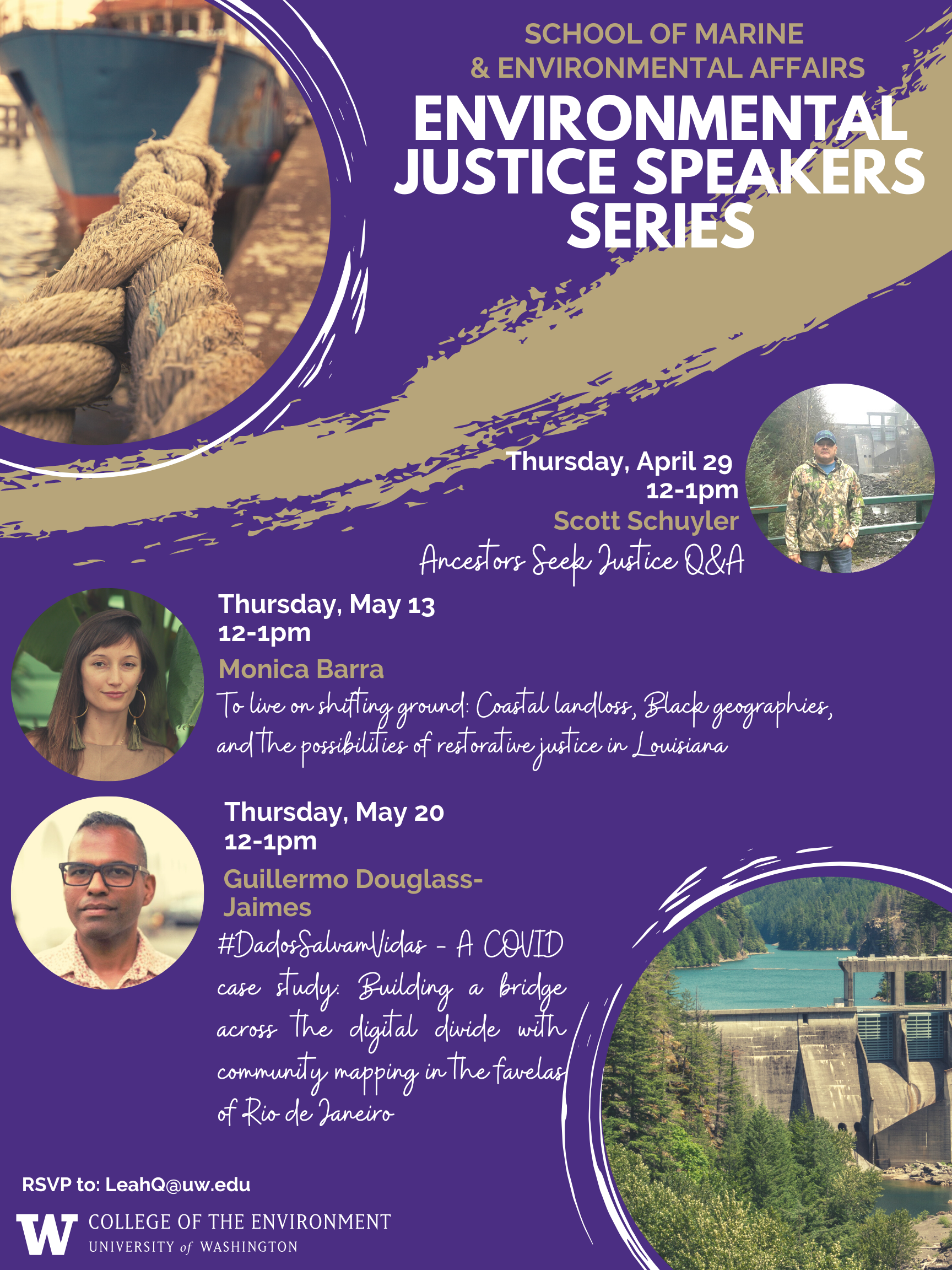 A quick run-down (all sessions are 12-1pm PST via Zoom):
April 29: Scott Schuyler, Natural Resources Director, Upper Skagit Tribe (https://washington.zoom.us/j/98190271524?pwd=QTJ6a2ovMGo5L2tkbkhsSlQ0blk3UT09)
If you've caught King5 news lately, chances are you've seen Scott and his important work to raise awareness of the impacts of hydropower dams on the Skagit River and the detrimental impacts felt by his tribe, including the environmental concerns. Scott will be joined by our own Dave Fluharty for a Q&A on this topic, and attendees will have the chance to engage in the Q&A to explore the environmental justice issues at stake for the Upper Skagit tribe as well as other indigenous communities.
May 13: Monica Barra, Assistant Professor, School of Earth, Ocean, & Environment and Dept. of Anthropology, University of South Carolina (https://washington.zoom.us/j/93935896328?pwd=ZGR0dHowd0NjZ1kxNjRDZDFkNyt6dz09)
Interested in environmental and urban anthropology, race and inequality, ethnography of North America, racial geographies, political ecology, and environmental racism and justice, Dr. Monica Barra will be offering a presentation about her scholarship around the impacts of coastal landloss in Louisiana.
May 20: Guillermo Douglass-Jaimes, Assistant Professor of Environmental Analysis, Pomona College (https://washington.zoom.us/j/94955689930?pwd=Sm1PV296KzVIeWIvdG84RXIyd1hNdz09)
Having served as an NIH Fogarty Postdoctoral Research Fellow collaborating with researchers in Brazil and the US to examine the spatial distribution of epidemics like Zika, HIV, and TB in and around Rio de Janeiro, Dr. Douglass-Jaimes is well-poised to offer insights surrounding the COVID-19 global pandemic and its impacts on urban communities and neighborhoods in Rio de Janeiro.
We will be promoting each individual talk on social media as we get closer to each engagement, we'd appreciate your "like" or "share" to reach a broader audience. Please feel free to reach out with any questions! We hope to see you online for these great talks.
---
ARCHCEPEventsLARCHlecturesPh.D.StudentsUDPUndergraduatesShareTweet