The Andy Warhol Foundation Arts Writers Grant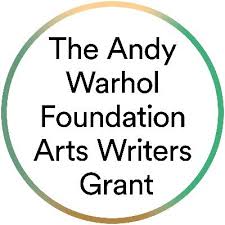 The Arts Writers Grant supports both emerging and established writers who are writing about contemporary visual art. Ranging from $15,000 to $50,000 in three categories—articles, books, and short-form writing—these grants support projects addressing both general and specialized art audiences, from short reviews for magazines and newspapers to in-depth scholarly studies. We also support art writing that engages criticism through interdisciplinary methods or experiments with literary styles. As long as a writer meets the eligibility and publishing requirements, they can apply.
By "contemporary visual art," we mean visual art made since World War II. Projects on post-WWII work in adjacent fields—architecture, design, film, performance, sound, experimental music, etc.—will only be considered if they directly and significantly engage the discourses and concerns of contemporary visual art.
To be eligible for this grant, an arts writer must be
an individual;
applying for a project about contemporary visual art;
an art historian, artist, critic, curator, journalist, or a writer in an outside field who is strongly engaged with the contemporary visual arts;
a U.S. citizen, permanent resident of the United States, or holder of an O-1 visa (if your application advances to the final round, you will need to submit current documentation);
at least twenty-five years old;
a published author (specific publication requirements vary depending on grant category; see the project-specific eligibility requirements).
Application due 5/19/2021
---