The Simpson Center Collaborative Projects and Lecture Nominations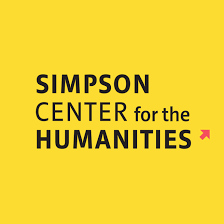 The Walter Chapin Simpson Center for the Humanities administers two funding rounds per year, in Fall and Spring Quarters. Proposed projects should be led by UW faculty and/or graduate students, require $1,000 or more in funding, and be planned for the subsequent academic year.
Collaborative Projects:
Collaboration Studio Grants furnish UW faculty groups with summer salary support to catalyze, deepen, or reconfigure crossdisciplinary research and facilitate publication. Fall submission only.
Colloquia and Conferences include speaker series, international research, and working conferences, and are selected for support based on their crossdisciplinary and interdisciplinary focus.
Video Conferences & Colloquia will support crossdisciplinary and interdisciplinary symposia, colloquia, and conferences of various scales (working conferences, international research conferences, etc.) in digital formats.
Crossdisciplinary Research Clusters seed new collaborations between faculty and graduate students who share research interests.
Large-scale Collaborations fund extended, crossdisciplinary collaborative projects that are often aligned with Simpson Center initiatives.
The Research Methods Exploration Award supports research projects of a faculty member that would benefit from cross-disciplinary engagement with a faculty member in another field.
Lecture Nominations:
Katz Distinguished Lectures in the Humanities – The Solomon Katz Endowment in the Humanities supports up to three lectures each academic year: one by a member of the UW faculty and two by visiting scholars. Nominees should have excellent scholarly credentials and speaking abilities, and their work should appeal to a broad audience—faculty, students, and the general public. Fall submission only. 
Deadline: 11/6/2021. View website for more details. 
---
ARCHCMCollegeFacultyFundingGraduateLARCHOpportunitiesPh.D.REResearchUDPShareTweet