UDP Professionals Council Lecture Series: Exploring a New Future: Health by Design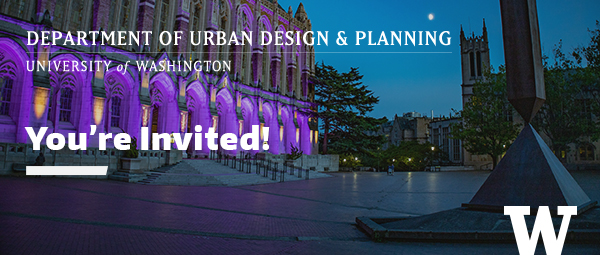 UDP Professionals Council presents
Exploring a New Future: Health by Design
Rupal Sanghvi, MPH, Founder and Principal of HealthxDesign
April 21, 2021 6:00 p.m. – 7:30 p.m. PST


On April 21, 2021 from 6-7:30 PM PST the UW Department of Urban Design and Planning and the Professionals Council are pleased to present Exploring a new future: health by design — a lecture by Rupal Sanghvi, MPH, Founder and Principal of HealthxDesign. This is the third in our 2020/2021 lecture series highlighting important topics in planning.
Rupal's lecture will cover:
Key trends in public health that will make collaborating with urban designers, architects, planners and other "shapers" of the built environment critical for ensuring positive health outcomes. 
Outcomes based design — urban design as public health intervention, linked to epidemiological data, evidence based pathways, and metrics for short and long term outcomes.

Real projects and examples at multiple scales will be shared to reflect how the technical tools of public health can articulate the concrete contributions of prospective design interventions.

Persistent challenges — current gaps in mainstreaming an outcomes-based approach to public health and the built environment.
Rupal has over twenty years of experience in health promotion and disease prevention.  She has partnered with community-based non-profit organizations/NGOs, and the public sector in infectious disease prevention, violence prevention, adolescent health promotion, and access to care for marginalized and geographically isolated groups. Rupal has been a consistent reviewer for the American Public Health Conference and has worked with the World Health Organization, International Planned Parenthood, and the International Rescue Committee. She received the United States Secretary of Health's Award for Innovations in Health Promotion and Disease Prevention after earning her Master of Public Health at the University of Michigan.
Event attendees are eligible to receive 1.5 Certification Maintenance credits through the American Planning Association.
RSVP below to join us on April 21st!
---