Undergraduate Research: Courses + Resources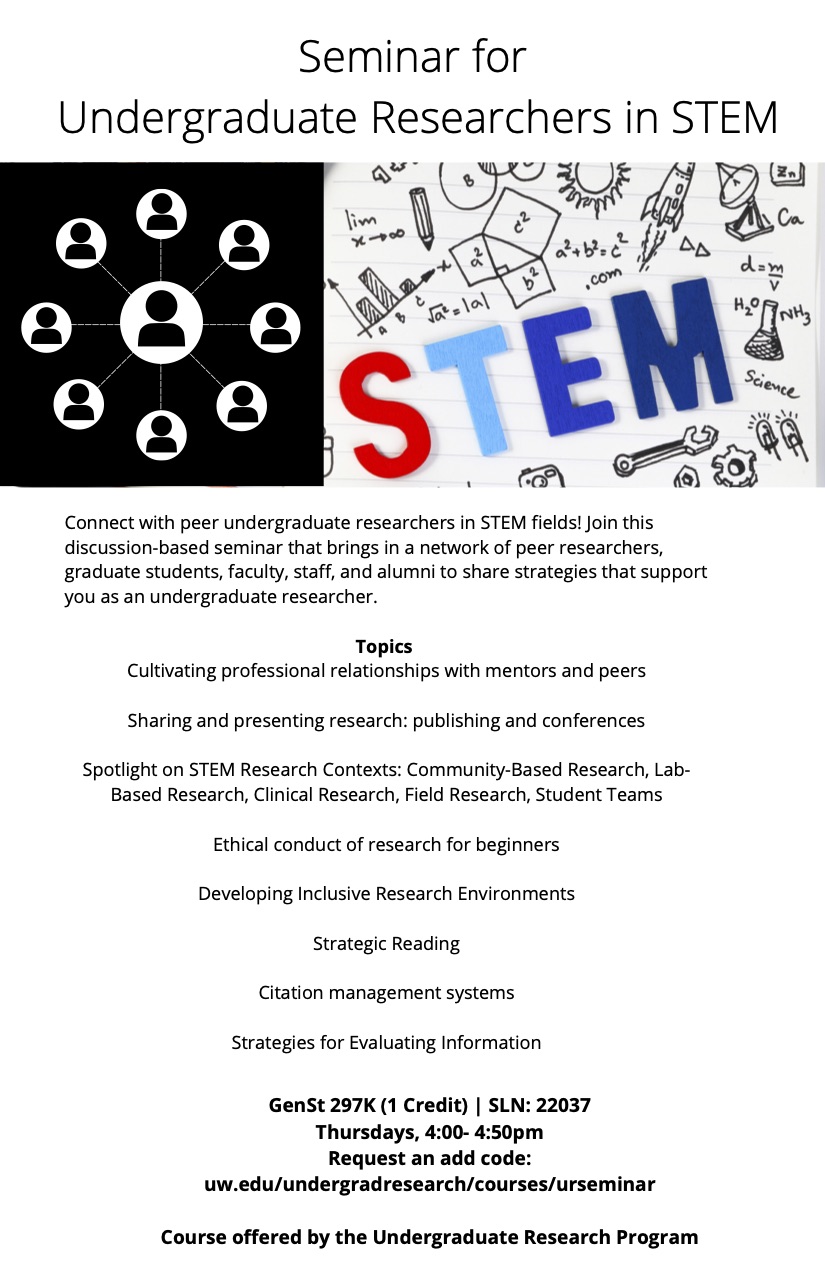 Seminar for Undergraduate Researchers in STEM (New Course, Flyer shown)
Gen St. 297 D | SLN: 22037 | Thursdays, 4:00-4:50 p.m. | 2 Credits
This course was created to expand students' community of researchers. It is geared for students about to begin or currently involved in research. More info about the course and how to register is on our Undergraduate Research Seminar website.
Research Exposed! Population Health (Flyer in link)
Gen St. 391 D | SLN:15106 | Wednesdays, 12:30-1:20 p.m. | 1 Credit
This is a great faculty speaker series geared to provide an understanding of research in various disciplines. For information on the course and speakers is on our RE! course website.
UW Libraries Undergraduate Research Tutorial
In collaboration with the Undergraduate Research Program, the UW Libraries created a Canvas tutorial for undergraduate student researchers that supports student research skills across disciplines. Students can access and complete the tutorial in Canvas. Faculty and instructors can import the whole tutorial or individual modules into their Canvas Course via UW Canvas Commons. For additional information, visit our website.
Undergraduate Research Leaders Presentations and Panels
In addition, the Undergraduate Research Leaders continue to bring awareness and share their experiences as peer researchers for students. If you'd like to request URLs to come to your courses or advising groups to present or be part of a panel, please complete the URL Request Form.
---
ARCHCEPCMCoursesLARCHREResearchResourcesStudentsUndergraduateShareTweet