University Honors Program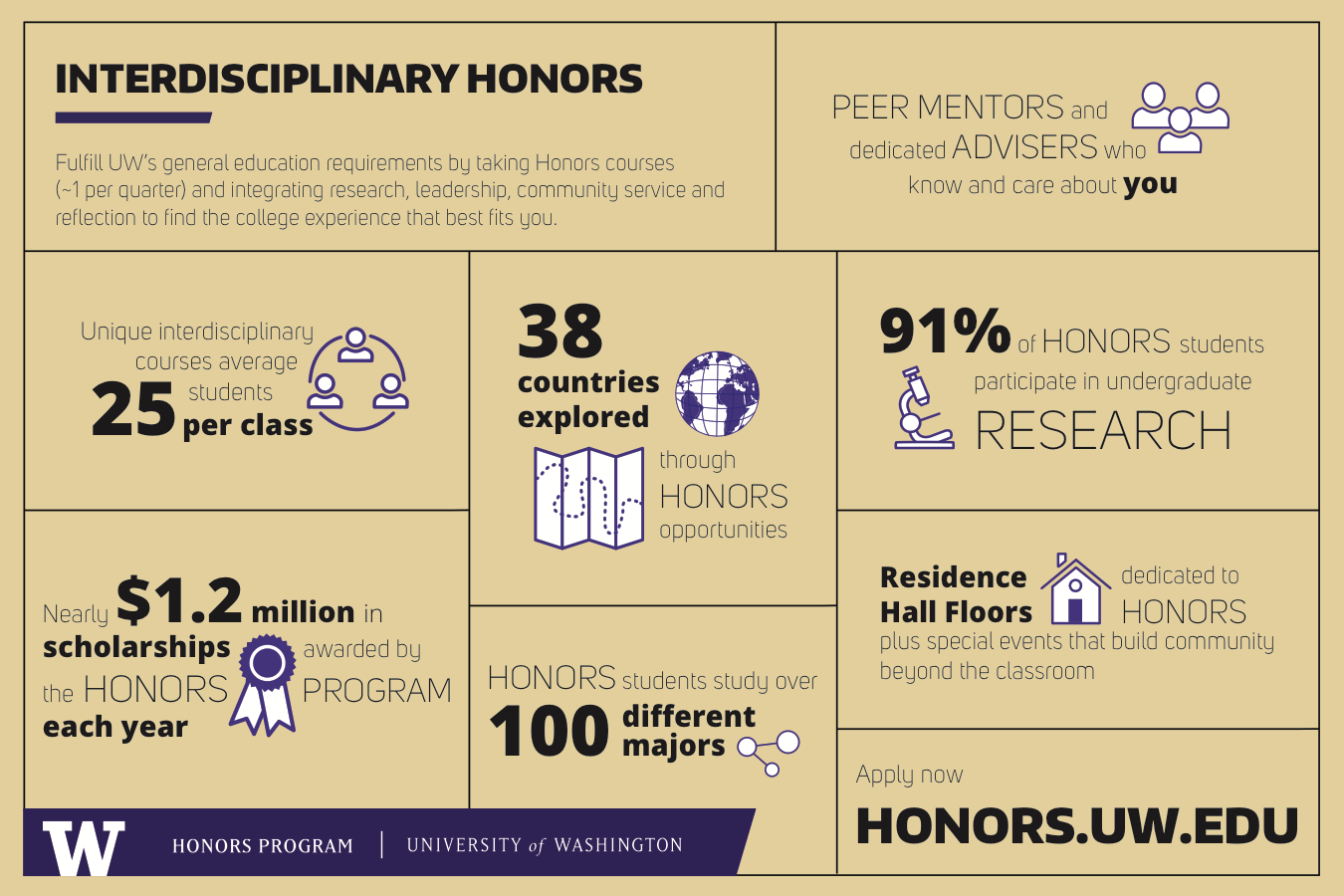 The UW Honors Program is currently in search of curious, motivated and open-minded first year students to join the Interdisciplinary Honors Program, and we think you might be a great fit for our community!
What is Honors?
Honors is a curriculum, a community, and much more! In Honors you'll fulfill your general education requirements in small, seminar-style classes; be supported through international study, community service, leadership and research; access Honors scholarships and advisers; and ask and answer bold questions about the challenges facing our world. Our students are enthusiastic learners from all backgrounds and majors earning their degrees at one of the top public universities in the world.
Who should apply?
Are you eager to think in big ways about complex global challenges? Are you ready to act in the world from a foundation of your own lived experience? Are you curious about the world and learning together how you can be part of changing it for the better?
Don't have a "perfect" GPA? Don't worry, that's okay! We look for students willing to take risks and learn more along the way. Our advising team and student leaders help you find the right path for your interests, experiences and goals.
First year UW students who have a 3.3 cumulative GPA or higher from their first two quarters are eligible to apply for Second Year admission to Interdisciplinary Honors. We seek students who are particularly eager to think in big ways about complex global challenges, and act in the world through the lens of their own diverse experiences. Students who indicate a commitment to interdisciplinary inquiry, experiential engagement and reflection, as well as a commitment to serving the community, are particularly well suited to Honors.
Sound interesting?
Submit your application online by March 23, 2021 at 5:00 p.m.
We strongly encourage you to attend one of our information sessions prior to this deadline to get all of your questions answered:
If you cannot attend one of these sessions, you may schedule an individual appointment with an Honors adviser.
NOTE: Students who have already completed the UW Areas of Knowledge are not eligible to apply to Interdisciplinary Honors. Those students, as well as all students with more than 50 total UW credits who are still interested in pursuing an Honors degree, should consider Departmental Honors, a degree track in which Honors work is undertaken once you are accepted to your major. Contact your individual department for more information about this degree option.
We hope you will consider incorporating the Honors Program into your UW experience!
Sincerely,
The UW Honors Staff
211 Mary Gates Hall | Box 352800
Seattle, WA 98195-2800
Phone: 206.543.7444
Email: uwhonors@uw.edu
Winter Office Hours: Mon-Thu, 9am-5pm
---