UW Evans School relaunches program for undergraduates interested in Public Service Careers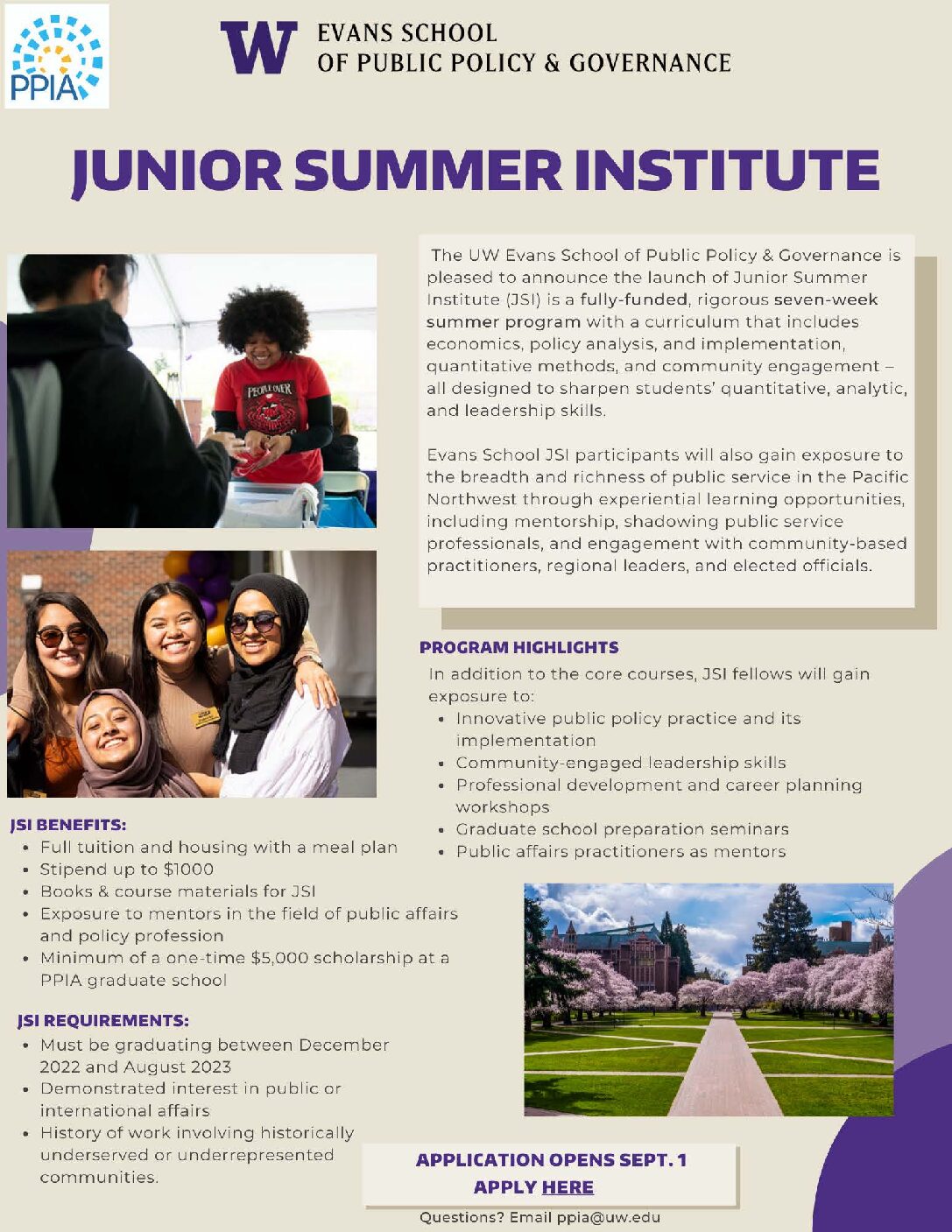 The UW Evans School of Public Policy & Governance is pleased to announce the launch of Junior Summer Institute (JSI) as part of Public Policy and International Affairs (PPIA) program that promotes the inclusion and full participation of underrepresented groups in domestic and international public service. starting Summer 2022. The UW Evans School's JSI program is fully-funded, rigorous seven-week summer program with a curriculum that includes economics, policy analysis and implementation, quantitative methods, and community engagement – all designed to sharpen students' quantitative, analytic, and leadership skills.
Evans School JSI participants will also gain exposure to the breadth and richness of public service in the Pacific Northwest through experiential learning opportunities, including mentorship, shadowing public service professionals, and engagement with community-based practitioners, regional leaders, and elected officials.
What: Junior Summer Institute (JSI)
Who: Students entering their senior year of undergraduate study
When: Mid-June to end of July 2022
Why: Gain deeper appreciation of current issues and trends in public and international service fields
Enhance knowledge and skills to support future pursuit of careers in public policy
Exposure to curriculum that includes economics, quantitative methods, policy analysis & implementation, leadership & community engagement
Gain mentorship and shadowing exposure to practitioners in the field of public policy and public affairs.
We'd appreciate your assistance in sharing the JSI program (flyer attached) with your students. Application for Summer 2022 opens September 1.
Thank you and please do not hesitate to reach out with any questions.
Best,
Amen Tsegai, MA (she/her)
Program Manager
Evans School of Public Policy & Governance | University of Washington
Box 353055 | Seattle, WA 98105
---
ARCHCEPCoursesLARCHOpportunitiesREStudentsUndergraduatesShareTweet