Virtual First-Gen Graduate Student Year End Celebration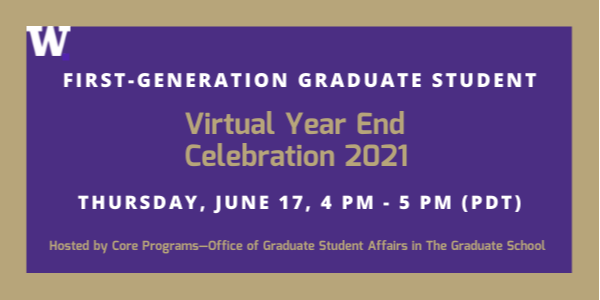 All *first-gen graduate students are invited to attend the UW Virtual First-Gen Graduate Student Year End Celebration on Thursday, June 17, 4 pm – 5 pm. Attend this free, online event to recognize your milestones and achievements, hear from esteemed guest speakers, and build community. Attendees' family and friends are invited, as well as staff and faculty who support first-gen grad students. This event will be recorded and close captioned. Hosted by Core Programs—Office of Graduate Student Affairs in The Graduate School.
*A first-gen graduate student is in the first generation of their family to earn a Bachelor's degree—and currently working towards a graduate degree.
For First-Gen Graduate Student Attendees:
In addition to registering for this event via the link at the bottom of this message, to be included in the digital slide-show and request a song to be featured in a special celebration Spotify playlist, please complete this form by Sunday, June 13, by 11:59 p.m. (PDT).
Guest Speakers:
Robin Zape-tah-hol-ah Minthorn PhD, Director of EdD Program in Educational Leadership & Associate Professor of Education, Tacoma campus
Chad Hoyer PhD, Postdoctoral Researcher in Chemistry, Seattle campus
Additional information:
Enjoy a digital slide-show featuring UW first-gen graduate student milestones and achievements
Learn insights and perspectives from esteemed first-gen guest speakers
Participate in community-building activities
Gain access to a special celebration Spotify playlist
First-gen grad student attendees will have their names entered in a drawing to win an e-gift card. Winners will be contacted after the event.
Photos:
Screenshots may be taken during this event and shared on the web, social media, and additional communication outlets.
To request disability accommodations, contact the Disability Services Office at least 10 days in advance at 206.543.6450/v, 206.543.6452/tty, 206.685.7264 (fax), or 
dso@uw.edu
.
---
CEPCMCollegeEDIEquity Diversity and InclusionEventsGraduateLARCHPh.D.REStudentsUDPUndergraduatesShareTweet