Want to use the Fab Labs? Here's how!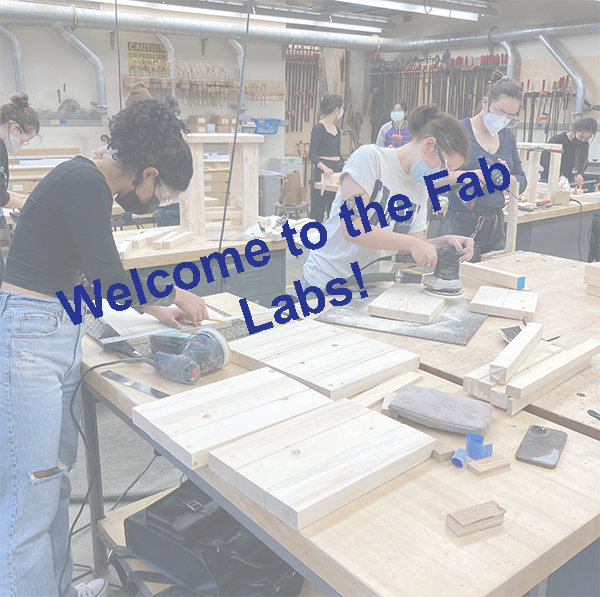 Hello CBE Students!
Many of you have been asking, "How can I use the Fabrication Labs?"
Well, here's the information you need to know…
When can I use the Labs?
During 
Open Lab hours
! We have open lab hours for all students, faculty, and staff. When are they? How do they work? Click 
here
.
What certifications are required to use the Fab Labs?
All users must read and sign a 
safety affidavit
. That can be done when you first come to the Labs- allot 30 mins. This will also be covered as part of the Wood Lab Certification.
Anyone who would like to use the wood lab stationary power tools is required to attend a Wood Lab Certification. If your class uses the wood lab as part of its curriculum, you will be certified during class. Check with your faculty.
Click here for more details 
Are there other tool certifications required?
The Fab Labs are in the process of creating more certifications on other resources in the Labs. In the meantime, you can come into the Labs and ask to be trained on many of the resources.
Do I need a certification to use most wood lab hand tools?
No, a certification is not required for hand tools usage. Instead we will train you on how to use the tool during open lab hours.
Wait, what's the difference between a certification and training? I don't understand.
Click here to learn.
I have used the wood lab as part of my class during previous quarters. Does that make me wood lab certified?
If the content you covered in class matches that of the Wood Lab Certification content we will happily grandfather you in! Please email Catherine
cmccul2@uw.edu
 with questions and details of the class.
Other questions? Did we miss something? We want to hear from you!
Also look for signs with this information on the doors of the Fab Labs, Gould Rm. 132.
Looking forward to seeing you in the Labs! Happy making! 
Catherine and the Fab Labs team
---
ARCHCEPCMCollegeFacultyGraduateLARCHNewsOpportunitiesPh.D.REResourcesStaffStudentsUDPShareTweet