WIN 2021: LArch 361, LArch 353/553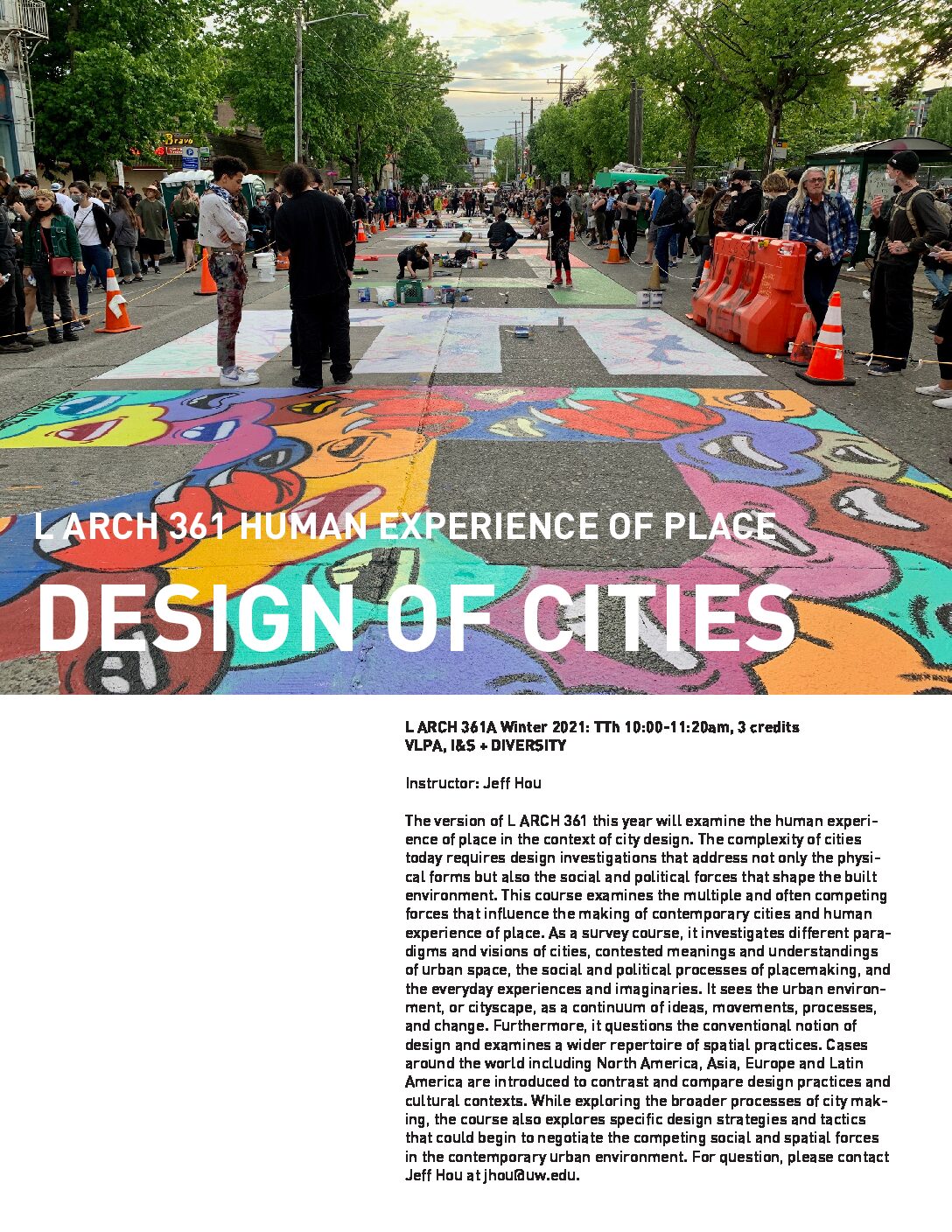 L ARCH 361A
Human Experience of Place: Design of Cities
3 credits VLPA, I&S + DIVERSITY
LECTURE: TTh 10:00-11:20am
INSTRUCTOR: JEFF HOU
The version of L ARCH 361 this year will examine the human experience of place in the context of city design. The complexity of cities today requires design investigations that address not only the physical forms but also the social and political forces that shape the built environment. This course examines the multiple and often competing forces that influence the making of contemporary cities and human experience of place. As a survey course, it investigates different paradigms and visions of cities, contested meanings and understandings of urban space, the social and political processes of placemaking, and the everyday experiences and imaginaries. It sees the urban environment, or cityscape, as a continuum of ideas, movements, processes, and change. Furthermore, it questions the conventional notion of design and examines a wider repertoire of spatial practices. Cases around the world including North America, Asia, Europe and Latin America are introduced to contrast and compare design practices and cultural contexts. While exploring the broader processes of city making, the course also explores specific design strategies and tactics that could begin to negotiate the competing social and spatial forces in the contemporary urban environment. For question, please contact Jeff Hou at jhou@uw.edu.
—
LARCH 353A, B + LARCH 553
History of Modern Landscape Architecture: Precedents and Alternatives in the Anthropocene 
5 CREDITS, VLPA/I&S;
OPTIONAL WRITING CREDIT, FULFILLS MLA BE HISTORY SELECTIVE
INSTRUCTOR: MARIA C. TAYLOR, PHD
LECTURES:  M/W 11:30-12:50 ALL SECTIONS
SEPARATE DISCUSSION/QUIZ SECTIONS: F 11:00-11:50/12:00–12:50 LARCH 353 A/B, F 11:30-12:50 LARCH 353C (HONORS) + LARCH 553
The words "emergence" and "emergency" stem from the same root, as do ecology and economy. In this time of intersecting climate, social and economic crises, this course will explore the modern history of gardens, designed landscapes, and other forms of intentional interventions in human and material relations with land and place. In covering the period from the late 18th century to the present, we will look critically at the historical development of landscape architecture as a profession and its entanglements with industrialization, urbanization, colonialism and social inequality.
History in this framing is more than the study of precedents; it is the study of causes, contexts, and alternatives. What will emerge from this present moment depends on what we choose to celebrate, critique or continue from the past. Topics covered will include historical landscapes of industrial and food production, political power and resistance, domesticity and domination, community and conflict, art and infrastructure. Class time will be split between brief lecture, small group activities, and student discussion. Taught synchronously with some flexibility.
PRIMARY TEXTBOOK: Taylor, Dorceta E. The Environment and the People in American Cities, 1600-1900s: Disorder, Inequality, and Social Change. Durham: Duke University Press, 2009. Additional readings will include international sites.
QUESTIONS? Contact Nick Dreher ndreher@uw.edu
---
ARCHCEPCMCollegeCoursesGraduateLARCHPh.D.REStudentsUDPShareTweet