WIN 2021: BE Winter Studio 405A/505A – DESIGNING FOR AUTHENTICITY : CULTURAL PLACEKEEPING IN SEATTLE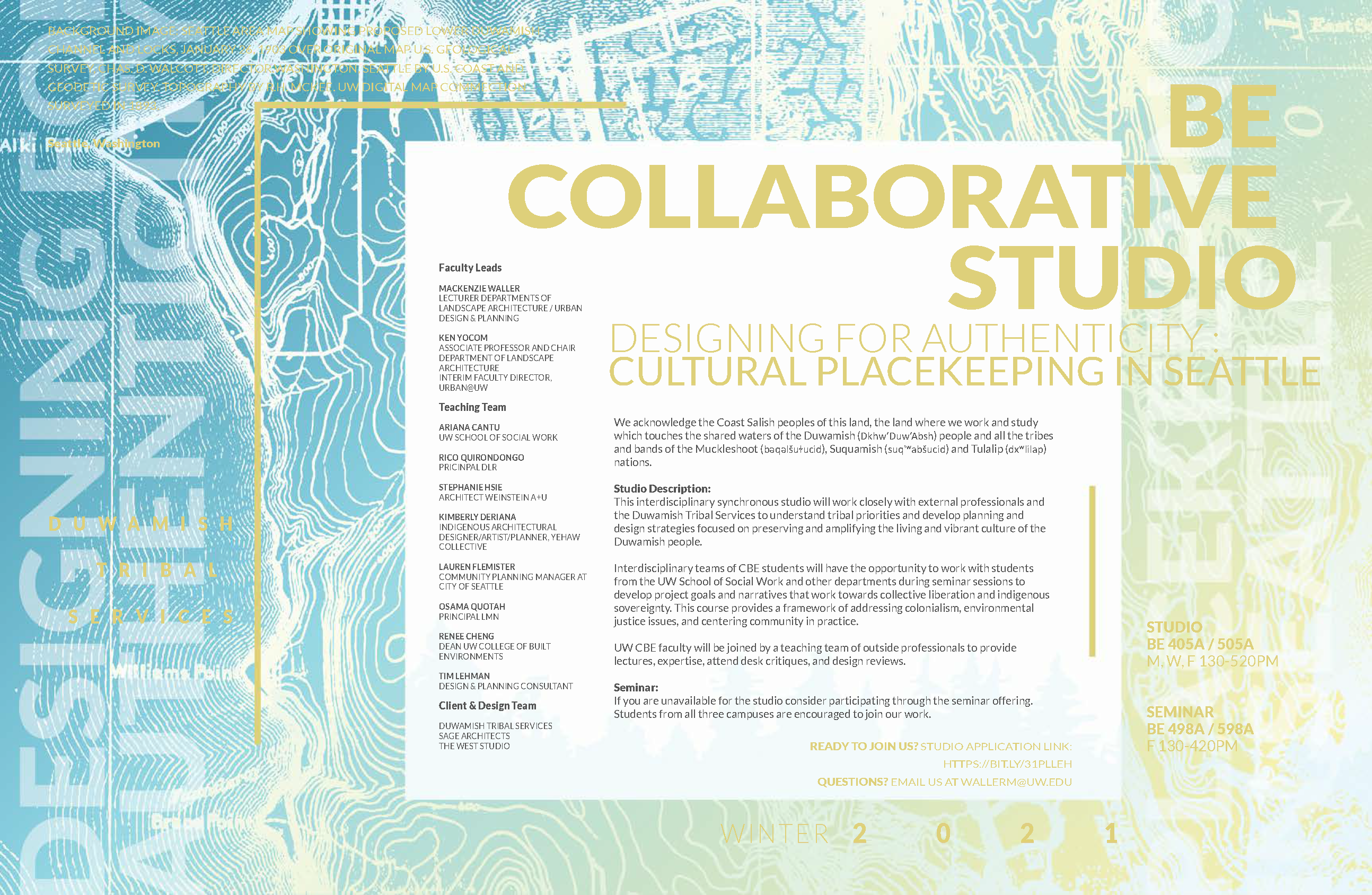 STUDIO BE 405A / 505A
Synchronous Studio // M, W, F 130-520PM
Studio Description:
This interdisciplinary synchronous studio will work closely with external professionals and the Duwamish Tribal Services to understand tribal priorities and develop planning and design strategies focused on preserving and amplifying the living and vibrant culture of the Duwamish people.
Interdisciplinary teams of CBE students will have the opportunity to work with students from the UW School of Social Work and other departments during seminar sessions to develop project goals and narratives that work towards collective liberation and indigenous sovereignty. This course provides a framework of addressing colonialism, environmental justice issues, and centering community in practice.
UW CBE faculty will be joined by a teaching team of outside professionals to provide lectures, expertise, attend desk critiques, and design reviews.
Faculty Leads
MACKENZIE WALLER
LECTURER DEPARTMENTS OF LANDSCAPE ARCHITECTURE / URBAN DESIGN & PLANNING
KEN YOCOM
ASSOCIATE PROFESSOR AND CHAIR DEPARTMENT OF LANDSCAPE
ARCHITECTURE INTERIM FACULTY DIRECTOR, URBAN@UW
Teaching Team
ARIANA CANTU
UW SCHOOL OF SOCIAL WORK
RICO QUIRONDONGO
PRICINPAL DLR
STEPHANIE HSIE
ARCHITECT WEINSTEIN A+U
KIMBERLY DERIANA
INDIGENOUS ARCHITECTURAL DESIGNER/ARTIST/PLANNER, YEHAW COLLECTIVE
LAUREN FLEMISTER
COMMUNITY PLANNING MANAGER AT CITY OF SEATTLE
OSAMA QUOTAH
PRINCIPAL LMN
RENEE CHENG
DEAN UW COLLEGE OF BUILT ENVIRONMENTS
TIM LEHMAN
DESIGN & PLANNING CONSULTANT
Client & Design Team
DUWAMISH TRIBAL SERVICES
SAGE ARCHITECTS
THE WEST STUDIO
READY TO JOIN US? STUDIO APPLICATION LINK:
HTTPS://BIT.LY/31PLLEH
QUESTIONS? EMAIL US AT WALLERM@UW.EDU
Seminar:
If you are unavailable for the studio consider participating through the seminar offering. Students from all three campuses are encouraged to join our work.
---