CBE Intranet
Gould Hall, The Buzz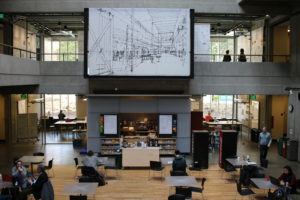 The Buzz Cafe  |  Gould Court East
The Buzz Cafe Gould Hall is located on Gould Hall's east court. Operating hours are Monday – Friday, 8:00 am – 4:00 pm. We are open for business weeks 1 – 10 of the academic quarters (autumn, winter, and spring) with limited hours finals week (Monday – Wednesday until 12:00 pm) and closed all UW holidays.
The Buzz accepts cash, Visa and Mastercard. Sorry, we don't accept Husky Cards
The Buzz serves Seattle's Best Coffee and The Republic of Tea. We are proud to support several local small businesses including: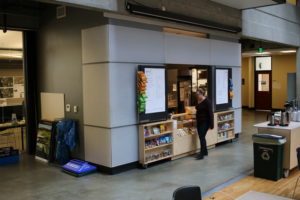 As a self-sustaining business, the coffee shop and its amenities (ice machine and refrigerator) are not available for public use.
When the coffee shop is open (M – F, 8:00 am – 4:00 pm), the east court and its tables and chairs are designated for patron use and are not able to be reserved. Any reservation of this space, when the coffee shop is closed, should be coordinated with Meegan Amen (meegan@uw.edu).
When making a reservation for "Gould Court" the east court is not included in the reservation request. The walls adjacent to the east court are available for public pinup/announcement without college permission.