CBE Intranet
Advancement Project Support: Work with Us!
How Can We Help? (click to expand)
Project Support
Communications
Event Planning
Visual Resources
Zoom Support
Additional Help
Welcome! We're glad you're here. Advancement team forms are designed to help our team assess, strategize, and support the work of the College of Built Environments. This form is for help with Communication, Marketing, and Event promotion. Every week, our team meets to assess inquiries and determine how they align with our – and the College's – strategic advancement efforts. If we cannot support your inquiry, we are happy to connect you with other resources. For help and support with fundraising, annual philanthropy or gift processing, please contact us here. We will connect with you for an intake meeting once we have an understanding of the scope of your project.
What services do we provide? Find both services and specifications on support below.
Our Services
Organizational Tools & Templates for Efficiency
Technology set up for events (Zoom, other platforms)

we also can provide help and equipment for your event including camera and sound equipment, teleprompters and other technology needs

Email support and help

We can help draft, build and create new email templates. Please note timelines for these services below.

Programming

we can advise on program content, length & protocols, script writing and run of show management.

Amplification & story pitches

for incoming news on grants and awards, research, or other important stories for our community, we can help define an audience and work to amplify throughout the college, across the UW or pursue earned media opportunities.
Project Timelines
Please allow the following timelines for your requests:
Please allow 2 weeks for email draft creation. We will need ALL completed information including photos, bios, and times including time zones before we start building emails.

Less time if you have drafted content

Please allow 4-8 weeks for new email template builds (including newsletter template builds for department newsletters)
4-6 weeks minimum lead time for virtual events and lectures

Please allow extra time for pre-recorded event support
6 weeks if you need run of show and production support

Please allow a minimum of 6 weeks for new or revamped website builds after initial meeting for scoping of website project.
Event planning is an integral engagement component that enables you to connect with your alumni, donors, and external communities. The CBE Advancement team is happy to offer resources and event planning support that will help you accomplish your goals. Due to team workload and existing project schedules, we cannot guarantee staffing for every request. We look forward to collaborating with you.
Our Services
Event Strategy

Based on your timeframe and budget

Clear purpose aligned with Department goals and CBE Strategic Plan

Planning & Consulting Services

General Consultation & Support

Recommending Venues & Vendors

Providing Templates & Organizational Tools

Invitation & Registration

Programming/Content Advising

Coordination with Marketing & Communications as needed
Project Timelines
Please allow the following timelines, at minimum, for your requests.
12 weeks

minimum

lead time for in-person events

or

events of 100+ people

4-6 weeks

minimum

lead time for virtual events and lectures

Please allow extra time for pre-recorded event support

6 weeks if you need run of show and production support

2-4 weeks lead time for marketing and promotional materials and content development.
Visual Resources provides image services to meet the teaching and research needs of the College of Built Environments community. Students and faculty are invited to access images and research assistance at the Image Library (Gould 330) or through the online image database. Visual Resources also oversees the Gould Hall Photo Lab (Gould 009) and the second-floor Gould Gallery exhibition space. Faculty members can reserve time in the Gould 009 photography studio for groups of students to photograph their work (e.g. models, furniture). While CBE students have regular access to this facility throughout the quarter, instructors are advised to plan dedicated sessions if a large group needs to shoot for a single project on a deadline.
Visual Resources:
Helps CBE faculty members to prepare visual materials for inclusion in academic publications. We can assist with image research, digitization of photographs, and the creation of files to match publishers' specifications.
Faculty members teaching a CBE course may request digitization of print or film-based images for inclusion in the CBE Digital Image Database and in-class use.

Faculty members may request the digitization of images from books, journals, and other publications for the same purpose.

Curates Exhibitions and events in the Gould Gallery Space. To book the Gould Gallery space please fill out the VISUAL RESOURCES request in the form below.
**Note: Visual Resources does not provide event photography services but can recommend professionals working in this field.  Visual Resources does not record lectures taking place in current CBE courses for the purpose of student review. For this purpose, please take advantage of Panopto and Zoom recording options available to instructors via the Canvas course management platform.
If you need help with Zoom set up, please use our handy flowchart below to determine what type of Zoom support you need. If you need Zoom help or support, CBE Student Zoom Techs are trained and available to attend your Zoom classes and events and manage Zoom so you can focus on your presentation, or be there as on-demand Zoom support in case any difficulties arise.  Whatever your comfort level with Zoom, our techs can help from the basics of Zoom to some of the more advanced features and how to best integrate them into your classes or events. We even zprovide training for classes with TAs, GSAs, or graders assigned that would prefer to have those students available for Zoom.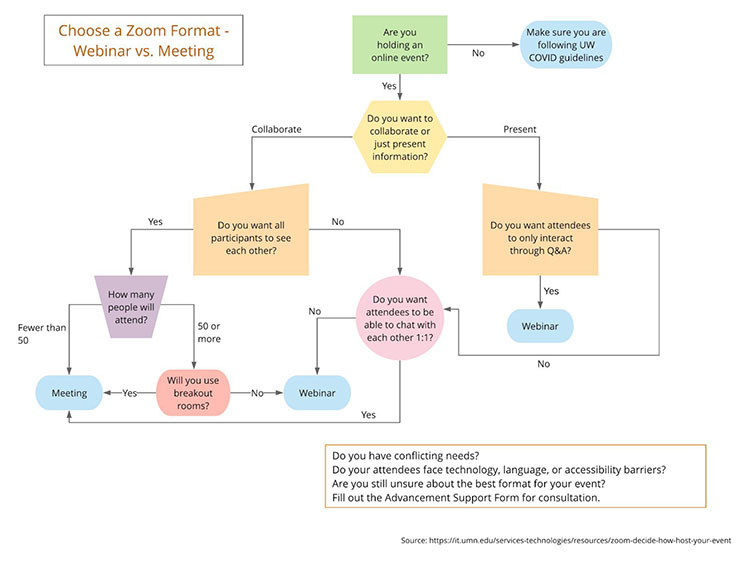 Request Zoom support here:
Get Help
Below you will find the project request form offered by your Advancement team. Please complete the form that best aligns with your project needs. You may also reach out to jawillia@uw.edu or lbarrera@uw.edu for more information.
If you can't find the resources you need in our toolkit, submit a project inquiry for consideration by our team. If we cannot support your inquiry, we are happy to connect you with other resources. You can find fundraising and gift processing services here.